5 Top Indian Watch Brands: Made in India wrist watches put India globally
Gone are the days, we depended on Swiss, English, Japan, and German timepieces. Indian watch manufacturing companies proved that they can not only produce spectacular watches, but their wristwatch can also match the international watches This article offers you a comprehensive understanding of the top Indian watch brands which are giving stiff competition to International watch brands.
International Horologist business module, strategy and advertising approach is very advanced as compared to Indian horologist. This is the main reason why we know more foreign watches and less know Indian watches.
The numbers of Indian watch brands are not that much compared to International watches such as Swiss or English, Japanese or German brands. Let's find out which are the best Indian watch brands that meet a watch lover expectation.
Top 5 Best Indian Watch Brands
Jaipur Watch Company

Bangalore Watch Company

Horpa Watch

Titan Watch

Fastrack Watch

Jaipur Watch Company
Gaurav Mehta who founded the Jaipur watch company in 2013. The timepiece, manufactured by JWC, is a combination of both luxury and traditional.
He uses old British era coins and Ganjifa paintings to gives a traditional look to watch. One of the greatest features of the JWC watch is that all products are handcrafted and prepared delicately.
The Jaipur watch company(JWC) is headquartered in Jaipur, the capital of Rajasthan.Their famous category of watches is, 3D printed watch, Coin watch, Hand-painted, and Peacock watch, etc.
Look at their two models of the wristwatch.
Imperial 11 Automatic Watch by JWC Model- IAGN01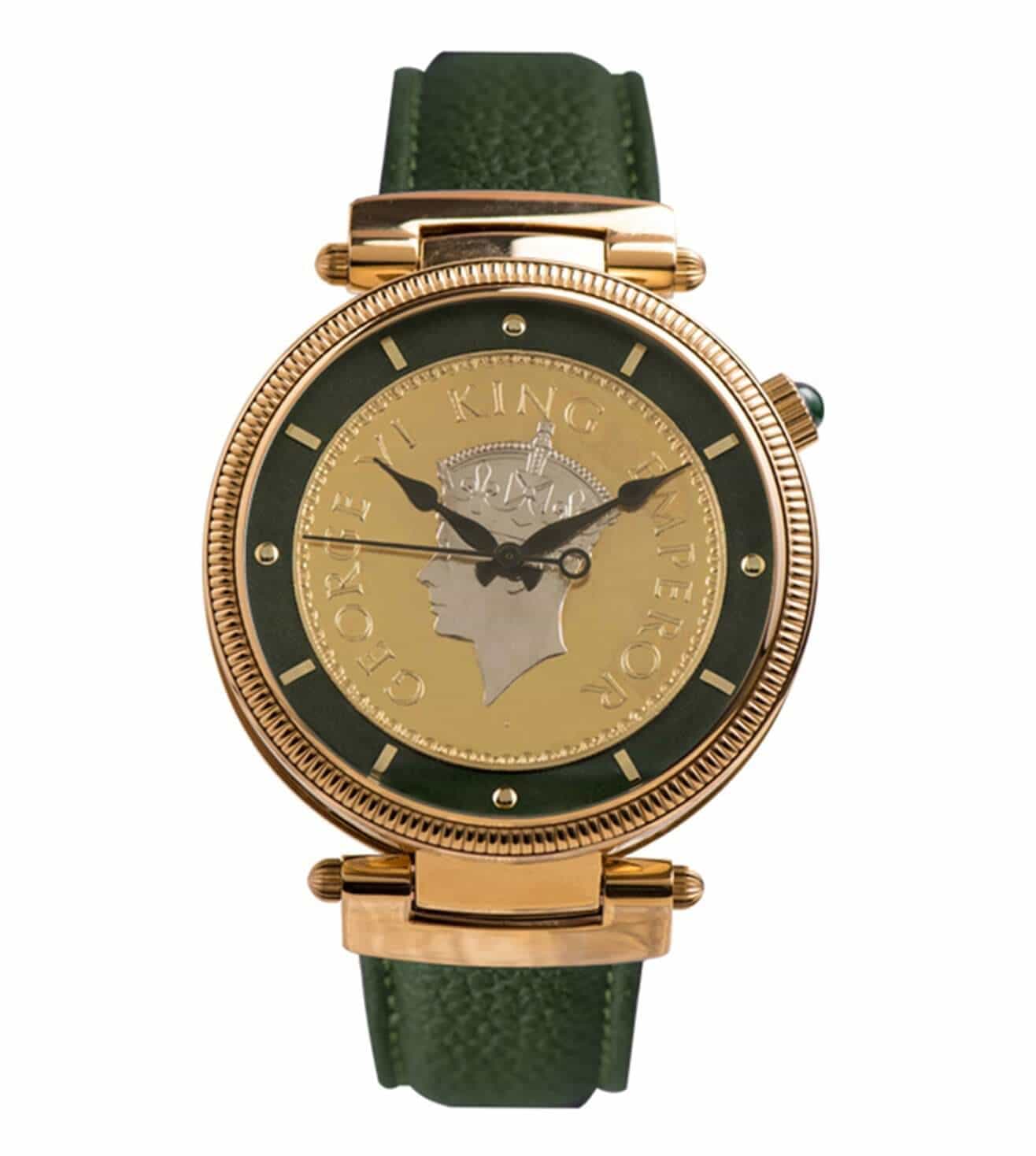 Watch Case – SS steel (46mm)

Watch Movement- Automatic

Watch Strap Type- Blue genuine leather

Water-resistant- 50 meter

Watch glass- Sapphire glass

Power reserve- 50 hours approx
Specials Features:- Emerald stone, one rupee coins of the British era. (Know more)(For those who are not familiar with the technical terminology of the watch industry, I have mentioned a comprehensive buyer guide in the last section of the same page. Please see it for better understanding)
Peacock Wrist Watch 11 Model-90030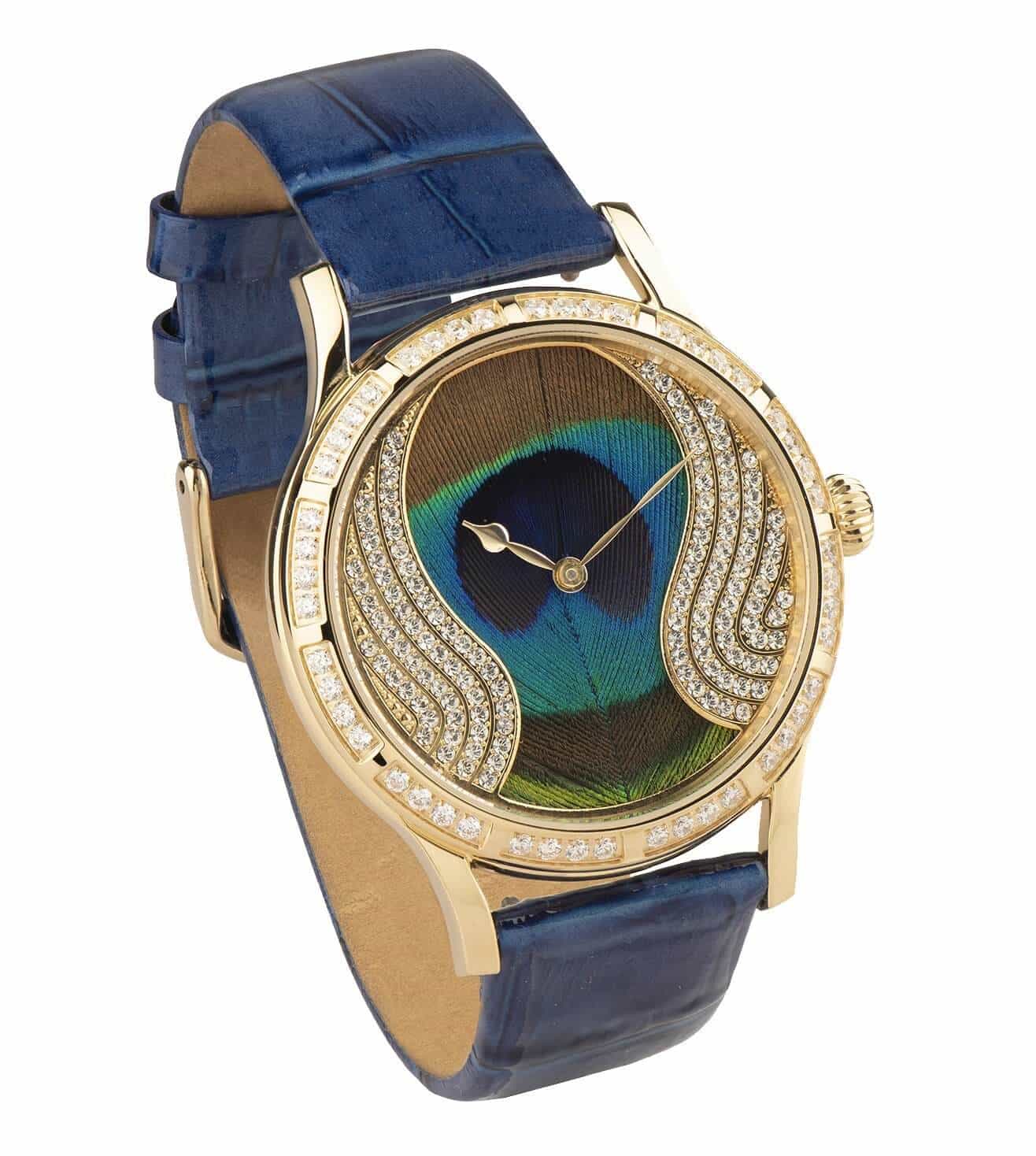 Watch Case – SS steel (42mm)

Watch Movement- Quartz

Watch Strap Type- Blue genuine leather

Water-resistant- 30 meter

Watch glass- Sapphire glass

Display- Analog
Special features:- Real fallen peacock feather (Know more)

Bangalore Watch Company
The Bangalore watch company was founded in 2017 by the couple's husband and wife at the same location where HMT used to be. For those of you who are not familiar with HMT, it was India's first watch manufacturing company that closed in 2015.
The couple Nirupesh Joshi and Mercy Amalraj are from a tech background, it took them almost 1 year to launch an automatic watch after the company was founded, but their automatic watch drew attention overnight, and received worldwide acclaim.
Find their two models of the watch to have a better idea.
MACH 1X by Bangalore watch company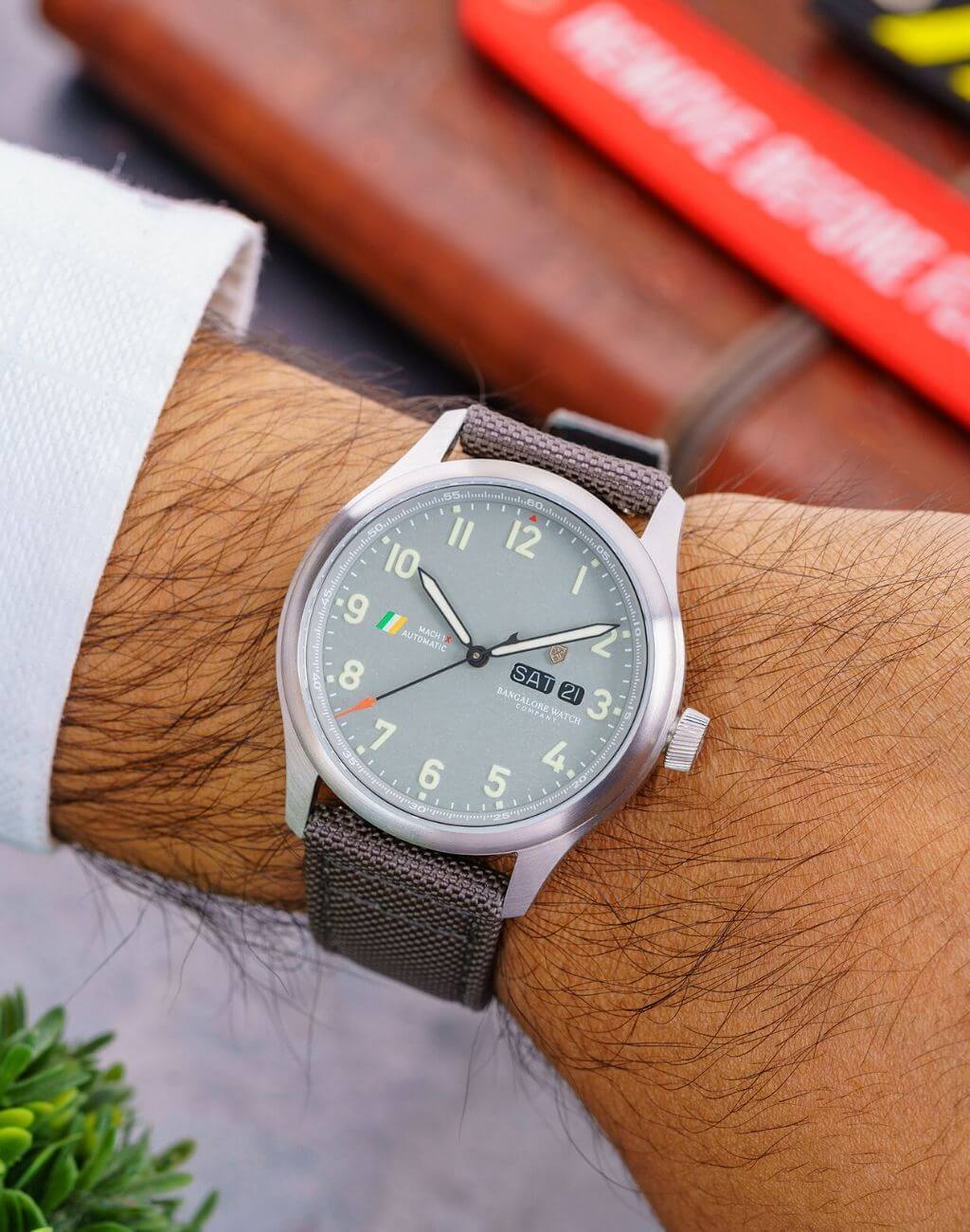 Watch Case – SS steel 316L (42mm)

Watch Movement- Automatic

Watch Strap Type- Textile strap with genuine leather

Water-resistant- 100 meter

Watch glass- Sapphire glass

Power reserve- 38 hours approx
Special features: made of military-grade-anodized aluminum from Indian Air Force MiG 21 fighter plane (Know more)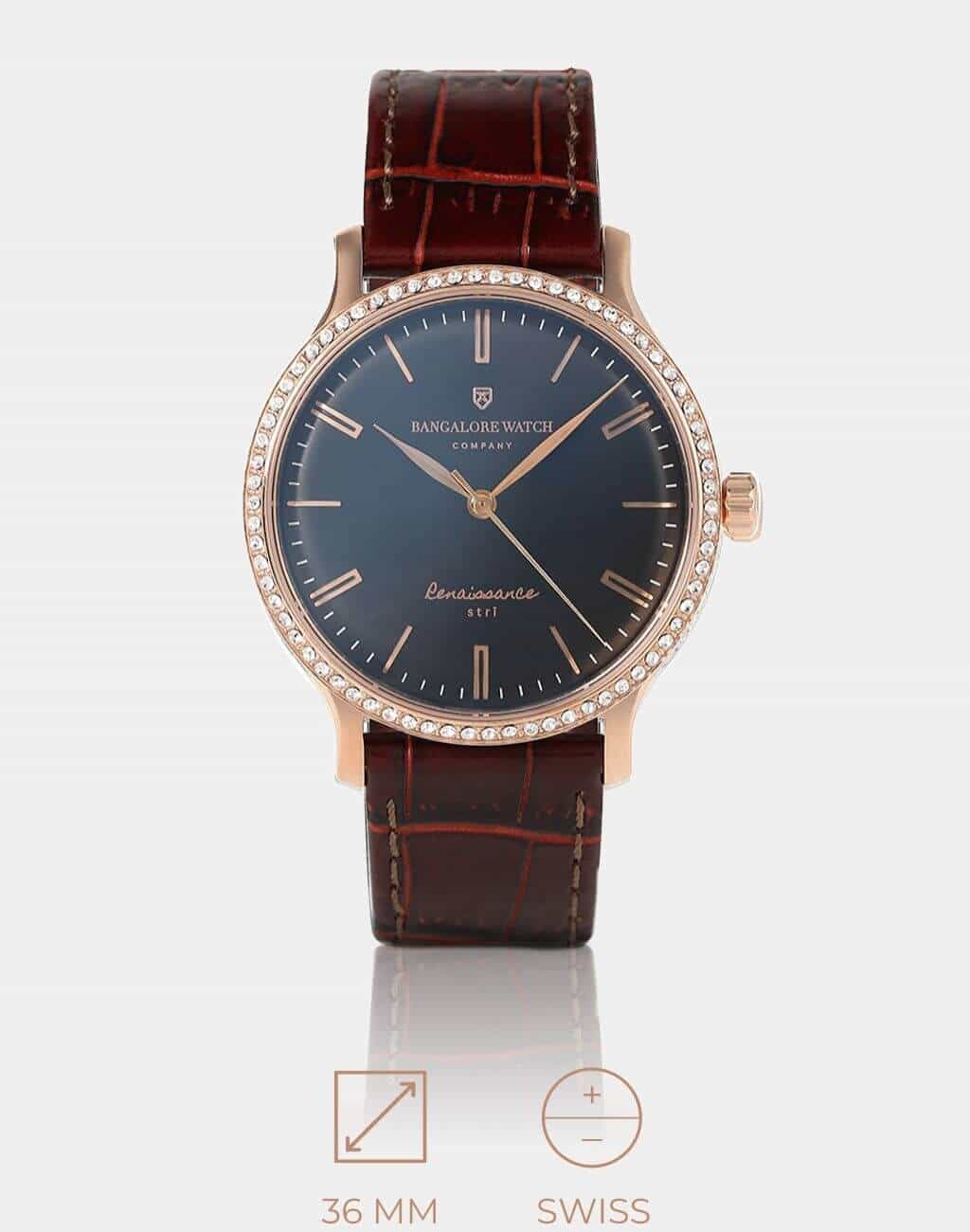 Watch Case – SS steel 316L (36 mm)

Watch Movement- Quartz

Watch Strap Type- Genuine leather strap

Water-resistant- 30 meter

Watch glass- Sapphire glass
Horpa Watch
When Deepak Chaudhary and Rajiv Asrani were asked the idea behind the brand name, they said, Horpa is a combination of horology and passion. Both Deepak and Rajiv are the founders of Horpa.
The Horpa watch company is based in Mumbai. Why you should consider a horror timepiece, only their product will tell you better.Let's dig…
Hopra watch Model No- C1SS4503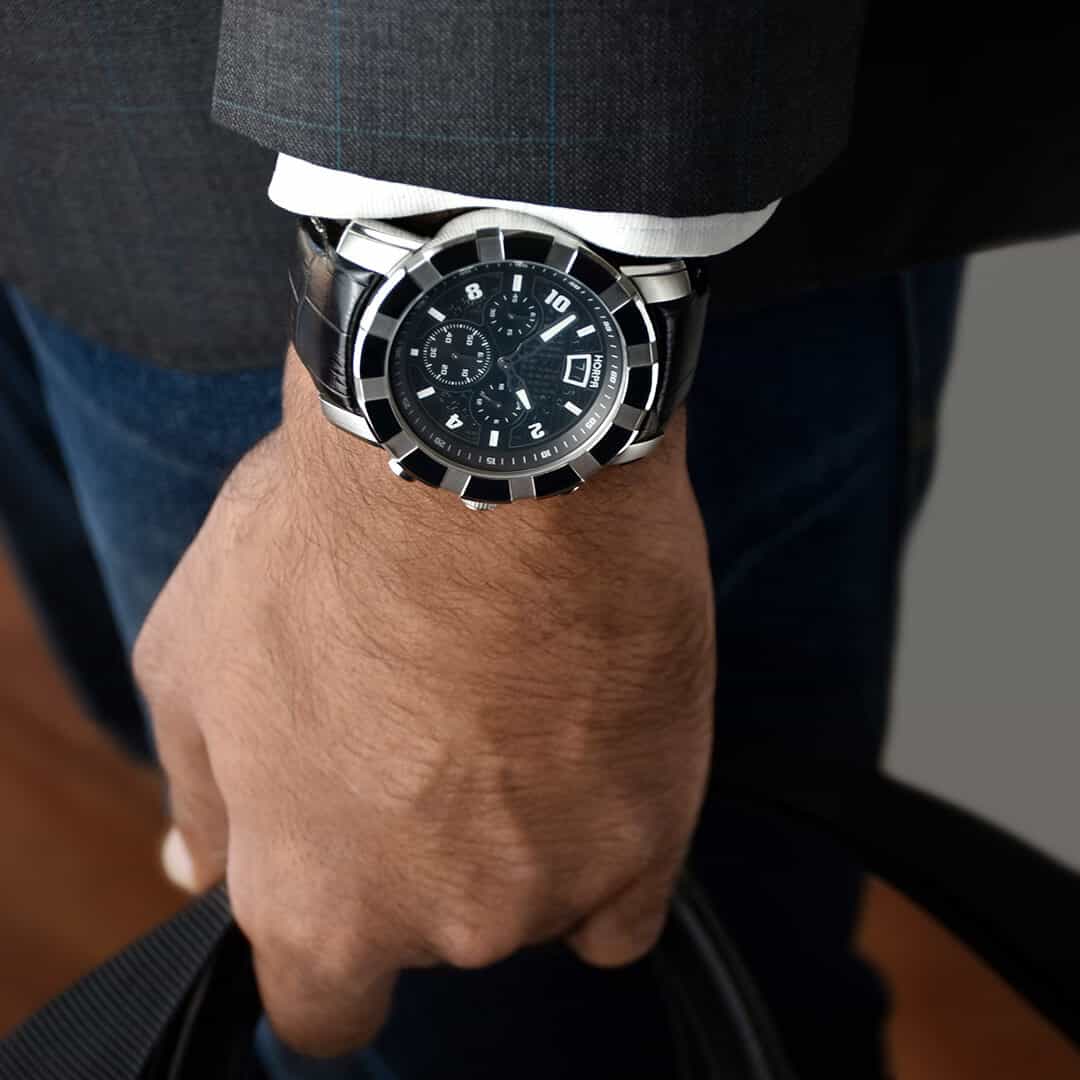 Watch Case – SS steel (45mm)

Watch Movement- Quartz

Watch Strap Type- Leather strap with black and white stitching

Water-resistant- 5 bar/ATM

Watch glass- Mineral glass/ Mineral crystal
Hopra Watch Model-MSS01M62PU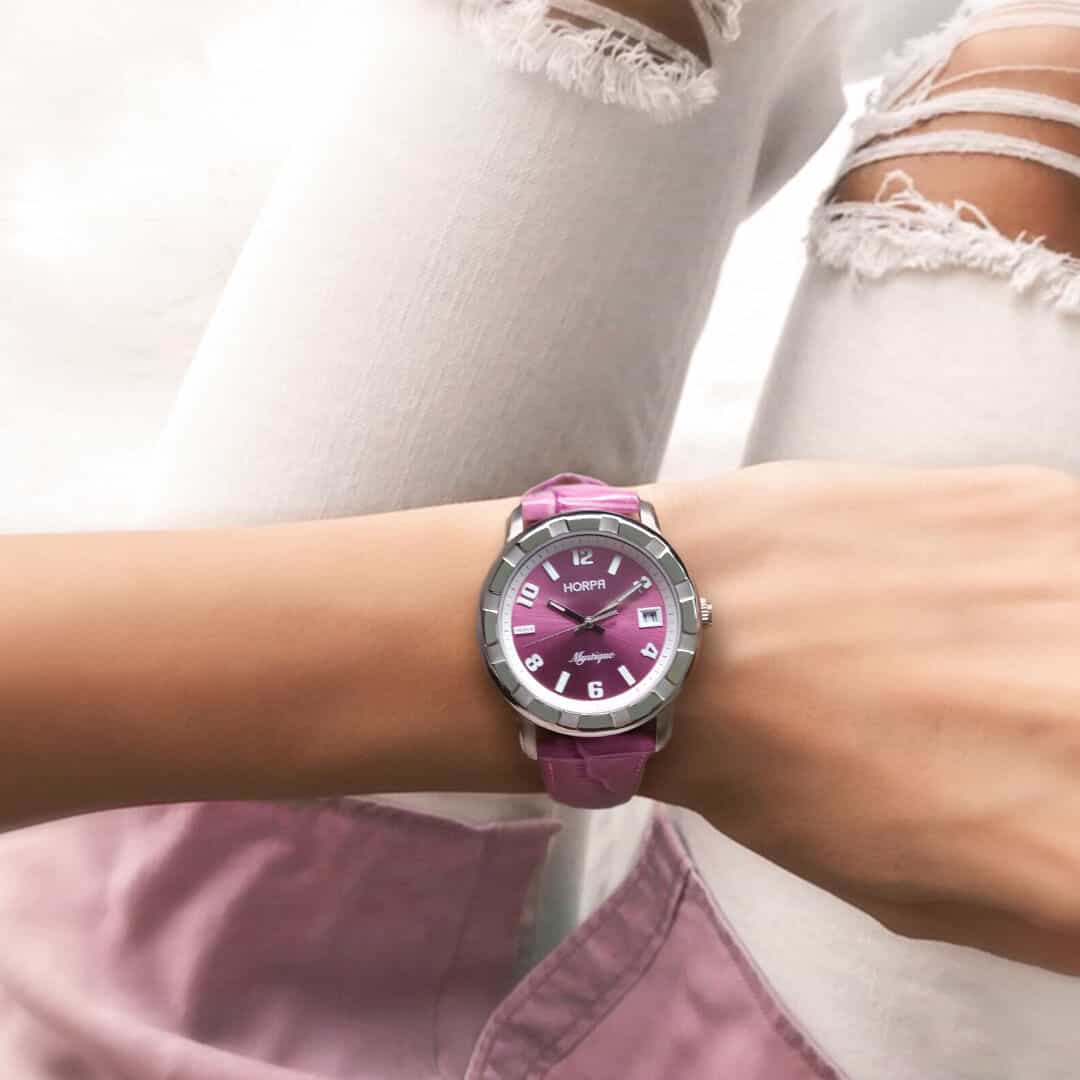 Watch Case – SS steel (34mm)

Watch Movement- Quartz

Watch Strap Type- Peach leather strap

Water-resistant- 5 bar/ATM

Watch glass- Mineral glass/ Mineral crystal
Titan Watch
Titan WatchTitan Watch Co. is the leading watch manufacturer in India and the world's 5th largest wristwatch manufacturer.
You might be surprised as to why I have placed Titan in the 4th position. No doubt, Titan has enough in-house watches to sell, but they incorporated it with a high-end international watch brand. Since Titan is known by most Indians, they are promoting International timepieces through their channel to Indian.
Titan has an exclusively eCommerce website (helious the watch store) dedicated to timepiece only, where they are selling more than 25 International brands.
Titan Watch's own manufacturing product
Grandmaster Skeletal Automatic Watch for men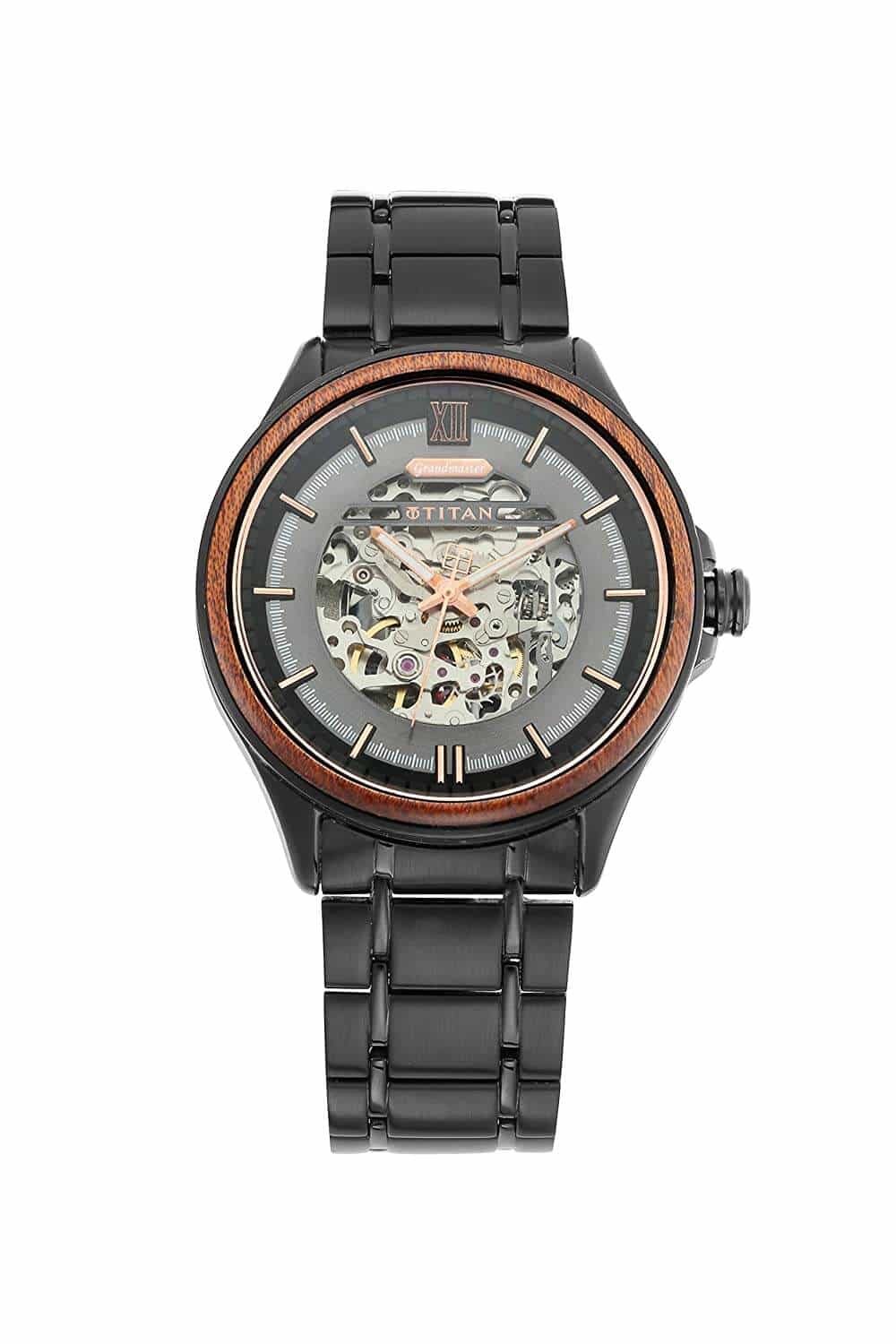 Watch Case – SS steel (45 mm)

Watch Movement- Automatic

Watch Strap Type- Leather strap with black and white stitching

Water-resistant- 5 bar/ATM

Watch glass- Mineral glass/ Mineral crystal
Cocktails from Raga by Titan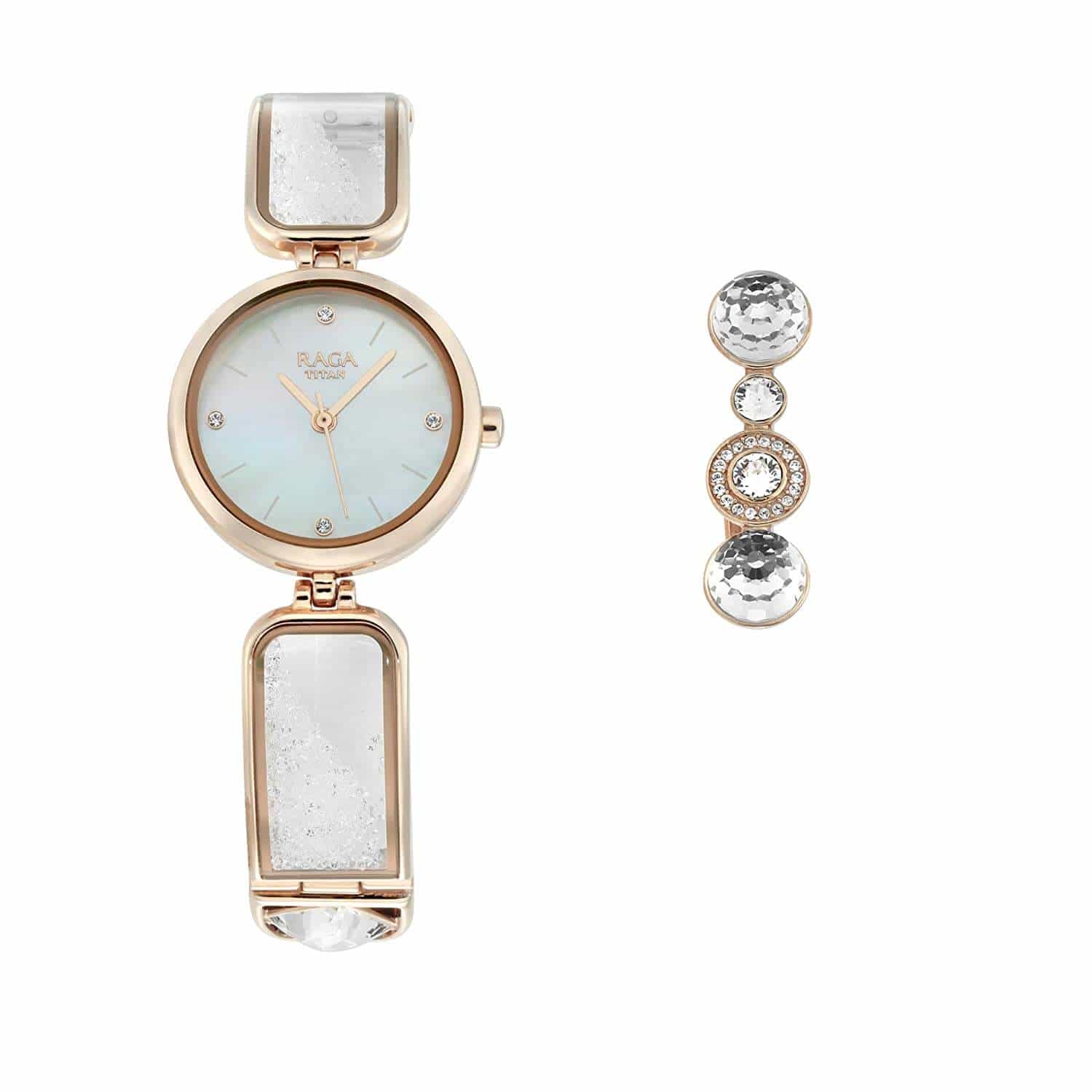 Watch Case – Brass(26 mm)

Watch Movement- Analog quartz

Watch Strap Type- Metal

Water-resistant- N/A

Watch glass- Mineral glass/ Mineral crystal
Fastrack Watch
Fastrack is the sub-brand of Titan Watch launched in 1998. Soon after the Fastrack launch in India it became popular across the country. It currently has more than 158 exclusive stores in various cities of India.
The beauty of the Fastrack watch is that it most targets people aged 12-30.
Fastrack Blue Dial Stainless Steel Strap Watch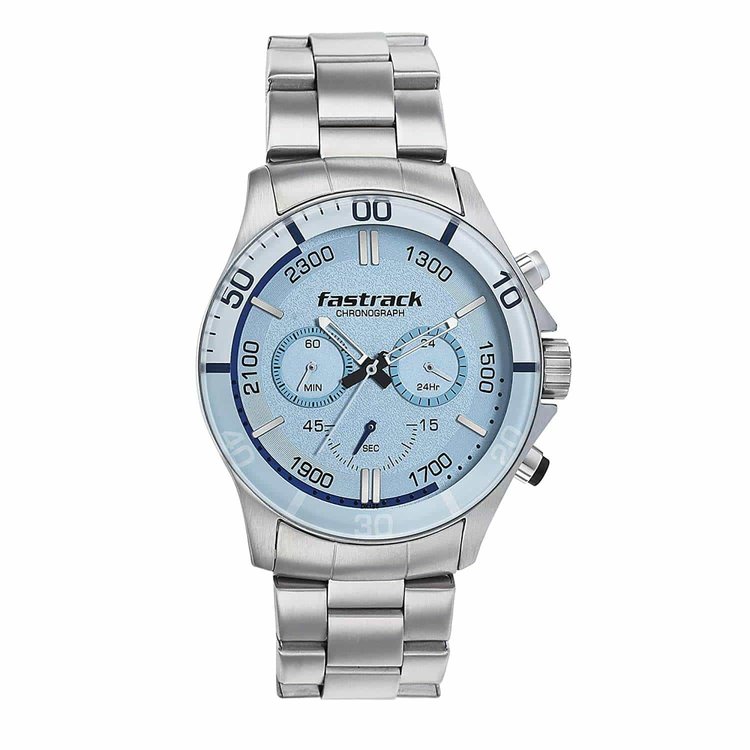 Model-3072SM05

Watch Case – SS steel (48.1 mm)

Watch Movement- Quartz

Watch Strap Type- Steel Bracelet

Water-resistant- 5 ATM

Watch glass- Mineral
Fastrack Grey Dial Leather Strap Watch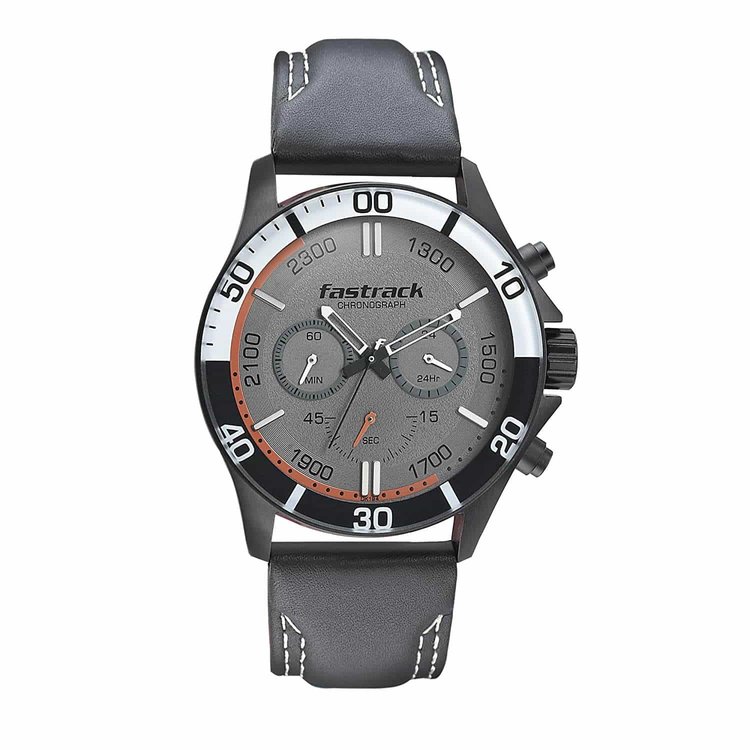 Model-3072NL01

Watch Case – SS steel (48.1 mm)

Watch Movement- Quartz

Watch Strap Type- Leather

Water-resistant- 5 ATM

Watch glass- Mineral
Also read,
Buyer Guide

Watch Glass
Watch Case
Watch Strap
Water resistant of Watch
Watch Glass/Crystal
The most confusing but first important step is to decide the glass your watch should have. A glass of watch referred to the crystal as well. It is transparent covering of the watch second hand and others complication. Glass protects the timepiece in many ways. Crystal doesn't allow entering dust, sweet and moisture, etc in the watch.
A Local watchmaker uses cheap material to prepare glass, that is not a good idea because it is a crystal which is exposed to temperature, dust, water, and object, etc firstly. The higher quality of the crystal a watch has, the longer your watch will run.
A crystal can be made of many varieties of materials, but the three materials are largely used to make watch crystal. Which is Acrylic glass or crystal, Mineral glass or crystal, and Sapphire glass or crystal? Each of them has unique pros and cons.
Acrylic crystal: Actually, It is not a glass but a plastic. Of all the crystals, it is less expensive. It is less likely to shatter like a watch with mineral glass (not easily breakable), but easily scratch. Comparatively, it looks cheapest. A low budget watch comes in acrylic crystal. For ensuring maximum safety, the parent gets a wristwatch with acrylic crystal for their children.
Mineral glass: One of the largest used glasses in the watch is mineral crystal. It is harder and more resistant to scratch than of acrylic (but not completely scratch-proof). It is not so strong as acrylic glass. Mineral glass is heavier than of acrylic glass. If you don't want to add extra load on your wrist, definitely it is not a good choice.
Sapphire crystal: When it comes to hardener of glass, sapphire is the better of all two. It is hardly get scratched. One can easily know the luxuriousness of the watch by staring it. But the costliest, a low budget watch does not have sapphire crystal usually.
Watch Case
For a process of shorting a best watch requires you prior homework. A consumer pays close attention when it comes to exteriors of the watch. It does not only protects movement but also gives an edge to watch look.
The process of shortlisting the best wrist watch requires prior homework. When it comes to the exterior of the watch, a consumer pays full attention. This not only protects the watch movement, dial, and other complications but also gives an edge to the watch.
A watch case is the part of the watch that holds the movement and dial. It is available in different materials and sizes and shapes. Watch case diameter can be as small as 22 mm and as large as 44 mm.
Watch cases can be made of stainless steel, bronze, titanium, and gold so on (these four materials are largely used by timepiece maker to make the case).
Stainless steel case:- SS believed to have high resistance and hardener. Although all the stainless steel is not the same. The SS that has the most chromium and the least amount of carbon is the first choice of SS watch manufacturing company (it determines the heat resistant and life of steel).
Most reputable watch companies use the SS316L grade to produce the case. Whenever it comes in contact with moisture and water, the case made of this grade of SS does not stain and rust. The case is polished to a high luster
Bronze Case:- Rust can destroy the appearance of your watch. Recently, bronze has been used in the watch case after a long time interval. The important alloy of bronze is copper.
The bronze case is not so strong as stainless steel case (SS). If you want to stand out among the crowd, choose the watch with the bronze case. Because its color is extremely attractive than of SS case.
Titanium Case:- Titanium is a more expensive element than the previous two, so is a watch case made from it. However, when it comes to durability, both (Bronze and SS) are lagging behind Titanium.
For many reasons, a watch case made of titanium may be good for you. In addition to durability, the titanium case is skin-friendly and lightweight.
Gold Case:- A watch with a gold case redefines your personality. People buy watches with gold for social tags and not just for a time. Usually, 18 karat gold is used by most of the watchmakers.
Watch band (Strap/bracelet)
A watch band, known as a strap or a bracelet, is used to tie a wristwatch to your wrist.
Technical Understanding: – A strap is made of leather or synthetic fiber material and a bracelet is made of metal.
Your outfit is a visual indication for others. Sometimes people look at your watch, shoes, and shirt, etc. to assess your success, status, and value, etc.
The strap (or bracelet) is the watch's exterior, no matter how expensive your watch is, if the strap is not so good (combination should be matched), people are less likely to notice your wrist. Moreover, the purpose for which you have worn expensive watches will not be fulfilled.
Both the watchmaker and the strap manufacturer are using different types of materials to make a watch strap or watch band or watch bracelet.
I am going to discuss that watch strap types only, which are used extensively in horology.
1 Leather:- Original leather is made from animal skin or hide. The truth is that, for the production of leather, most animal skins can be used such as alligators, crocodiles, elephant, ostrich, and cow so on.
Types of leather strap:-
Calfskin:- It is produced by the hide or skin of a juvenile calf, usually 1 year old or under with a maximum of 150 kg weight. Calfskin is one of the highest quality of leather used in the leather industry. Because of its finer grade and smoothness, softness, and thinness, it is used largely in watchmaking.
Nubuck:-The outer layer of cows and calf is used to make nubuck that is why it is more durable than of calfskin. It has a velvet-like finish.
Alligator:- One of the expensive leather produced from the skin of Crocodile. It is more durable than of the previous two.
Kudu:- Kudu leather is one of the rough and tough leather with high durability. Kudu is one of two species of antelope found in Africa.
Vegan leather:- animal skin or hide is not used to make, rather some other materials are used. (pineapple leaves, cork, apple peel, and polyurethane, etc.
2 Metal Bracelet:-(or metal strap):–
To be honest, you cannot imagine a 21-century watch without a metal. The watch has its own peculiarity with a metal bracelet; let us explore the types of the metal strap used extensively.
Stainless Steel:- SS is extensively used to make watch bracelets, the price being comparatively low which attracts the buyer. It is available in various attractive designs. You have the freedom to choose from a large collection of designs.
Titanium:- There has been a huge increase in users of titanium bracelets recently, with experts saying durability is one of the main reasons. I believe that skin-friendly and lightweight is also the reason for the consumer to buy it. Although a titanium strap is expensive, not all the general company offers you a titanium strap.
Gold:- Simply a precious one. The watch is not only for middle-class men but also for high-end users.
Others Materials:-
Water-resistant of watch
Most wristwatches have a water-resistant mark on their back. This means how well a watch is designed against water penetration.
To put it simpler, Water-resistant indicates how much pressure of water a watch can handle.
Water resistance of the watch is a unique feature that you should keep in mind when deciding to get a watch for yourself or for someone.
The water resistance value is written in ATM or BAR, which is not an SI approved unit for the water-resistant measurement but is used to indicate the amount of pressure a watch can withstand by the watch industry.
(1bar)1 ATM(atmosphere)=10 Meter=10 Feet

(3bar)3 ATM= 30 meter=100 feet

(5bar)5 ATM=50 meter=165 meter

(10 bar)10 ATM=100 meter=330 feet
Water-resistant does not mean that you should swim or bathe with your watch or submerge the watch in water.
Movement of Watch
People often focus more on the external part of the watch and forget its internal part. As a buyer, obviously the interior of the watch is as important as the outer part.
Movement of a watch is like a heartbeat which controls second hand, calendar, and chronograph, etc. It is a mechanism that determines ticks of your watch. Watchmaker refers to it as the heart of the watch.
There are three types of watch movements
Quartz

Mechanical

Automatic
1:- First Quartz movement has been introduced by the Seiko Watch brand in 1969. On the quartz watch, the second hand moves in individual ticks.
Quartz watch has some specialties; the quartz watch is powered by a battery. The results are precise, easy to maintain, comparatively cheap, and not heavy in weight so on.
2:- Mechanical movement, the second-hand moves in a smooth sweeping motion. The spring has to be wound periodically.
Not dependent on the battery, runs smooth, the interior is matchless, expensive but worthy.
3:- The movement of the second has similar but you don't have to wind it manually.
When you search for Indian watches, only a large collection of imported or foreign watches appear, then you have no choice but to consider them. Keeping this in mind, I have prepared this article on the top Indian watch brands.
Hope you have liked it.