Perhaps every Indian eagerly waits for the mango season every year. Mango is the only fruit available in India which is the favorite fruit of all, rich and poor. Not because it is full of nutrition, but because it is not as expensive as apples and other fruits. Apart from the taste, nutrition, and health benefits, mangoes are also popular for their sweetness. Since mangoes are available in many types, their sweetness also varies. This article will tell you about the sweetest mangoes in India. Keep reading……
India is the largest producer of mangoes in the world. The more mangoes India produces, the more the demand for Indian mangoes increases. But if I ask you, how many varieties of mango have you eaten so far? Some of you may say that they have eaten 5,6 or 10 varieties of mangoes.
Which mango was the sweetest you ate? The variety of mango you prefer is not necessarily the sweetest and tastiest. By reading this article, you will get to know the most delicious mangoes, the sweetest mangoes in India, and nutritious mangoes.
Mango is the most popular and most consumed fruit in the world. But, do you know that mangoes originated in India? (East region of India and Myanmar)
Mango was first grown in India 4000-5000 years ago. Due to its unique taste, sweetness, nutrition, and aroma, its seeds were first grown in Asia by transporting them from India, and then gradually mango spread throughout the world.
India produces over 1000 varieties of mangoes. Some Indians are familiar with 283 mango varieties (very fewer people), most Indians are familiar with5-15 mango varieties, or have enjoyed these varieties of mangoes in their lives.
Due to its long range, it is not possible to eat all types of mangoes in 1 session. When it grows in your country, it is better to eat only those mango varieties that are the best in taste, nutrition, and healthy life.
Being an India, you should know that mango is the national fruit of India, and has a sacred place because the name of mango is mentioned in Hinduism scripture.
All varieties of mango vary in taste, nutrition, smell, size, and weight. This means that all mangoes are not the same, you must have observed it.
Background: Mango is an English name that originated from the Malayalam word "Mangga". India has been cultivating mangoes for 4000-5000 years. The technical (biological) name of mango is Mangifera indica. Mango is popularly known as "AAM" in India, Pakistan, Bangladesh, etc. I have categorized mango varieties into sections so that you can remember them for a long time.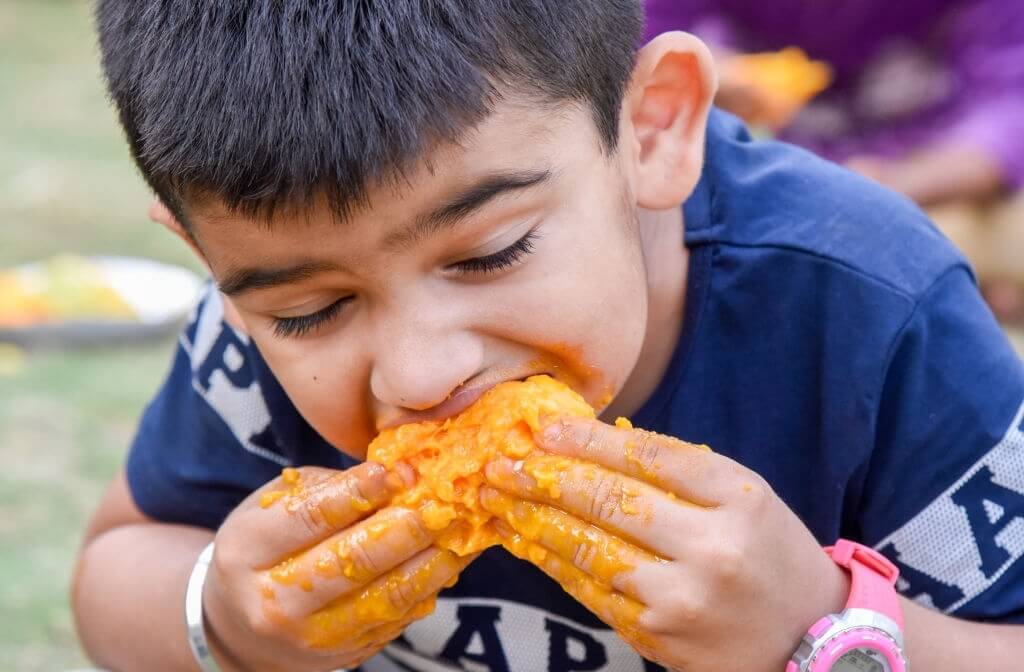 Keep in mind that the sweetness of the mango is not the only criterion to be best. You have a lot of things to consider when ranking top variety.
sweetest mangoes in India With fact figure
Taste: Very Sweet
Sugar 5.17
Carbohydrate: 27 gm /100 gm
Taste: Very Sweet
Sugar: 4.95
Carbohydrate: 5gm /100 gm
Taste: Very Sweet
Sugar: 4.86
Carbohydrate: 23.4 gm /100 gm
Taste: Very Sweet
Sugar: 5.48*
Carbohydrate 11 gm /100 gm
Taste: Sweet
Sugar: 4.82
Carbohydrate: 25 gm /100 gm
The above list of mangoes is the sweetest mangoes in India. you should taste them once if you have not tasted them yet.
Top 10 Types of Mango Varieties in India: How to identify them
 Alphonso Mango
Badami Mango
Chaunsa Mango
Dasheri Mango
Langra Mango
Baiganpalli Mango
Fazli
Mulgoba Mango
Bombay Mango
 Gir Kesar or Kesar Mango
Everyone has a different taste, whatever mango cultivar you like, your mother does not necessarily like the same mango cultivar. The list of the top 11 mango varieties has been prepared on the basis of consumption, taste, smell, nutrition, and availability, etc.
Types of best mangoes in India with Pictures
#1: Alphonso Mango
Alphonso mango:- Alphonso mango is also known as Hapuz, Hafoos, or Aapoos. Alphonso is the finest variety of mango, also considered to be king of mango because of its rich flavor, delicious taste, and maintained sweetness.
The availability of Alphonso mango is limited, urban people can get it easily. Another reason for its limited availability is its price. To enjoy it you have to pay a little more than the normal mango varieties.
Alphonso is one of the oldest mango cultivars in India. This variety of mango was developed by the first Portuguese after his arrival in India. Konkan, Maharashtra, and Goa were the first place in India where Alphonso mango was introduced after the Portuguese colony ( Portuguese colony was set up by Portuguese to stay in India).
Do you know the most expensive mango varieties in India?
Obviously, it is Alphonso. Alphonso is so costly, only you can buy it in the metro cities of India. Major producing cities of Alphonso mangoes are Ratnagiri, Konkan, and Sindhugurg.
The price of alphonso mango is never fixed. Its price depends on the production. However one can expect to get it from 180 / dozen to 900 / dozen.
Season of Alphonso mango
Mango is a seasonal fruit. Alphonso mango season starts in May and lasts till June. (Which means you can buy Alphonso mangoes from the market these days.)
*May be delayed due to heavy rains, change in weather, and natural phenomena.
#2: Badami Mango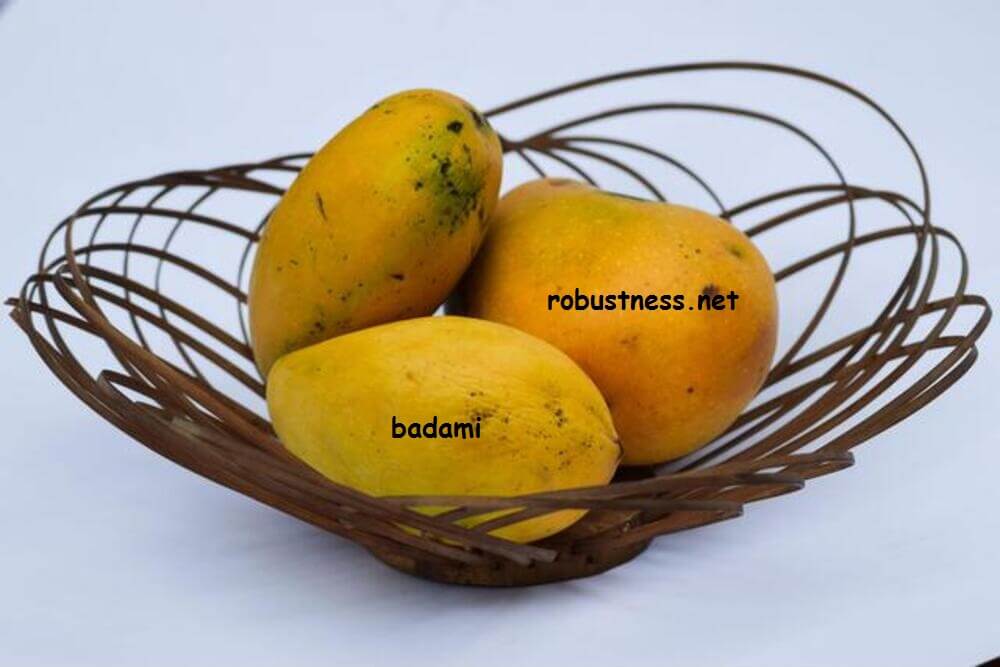 By now you came to know that mango is the king of fruits, Alphonso is the king of mangoes. Another amazing fact I would like to add here is that Badami mango is rated like Alphonso mango by South Indian. Badami mango is very much similar to Alphonso It is also an expensive type of mango.
Badami season begins slightly before Alphonso mangoes.
#3: Chaunsa Mango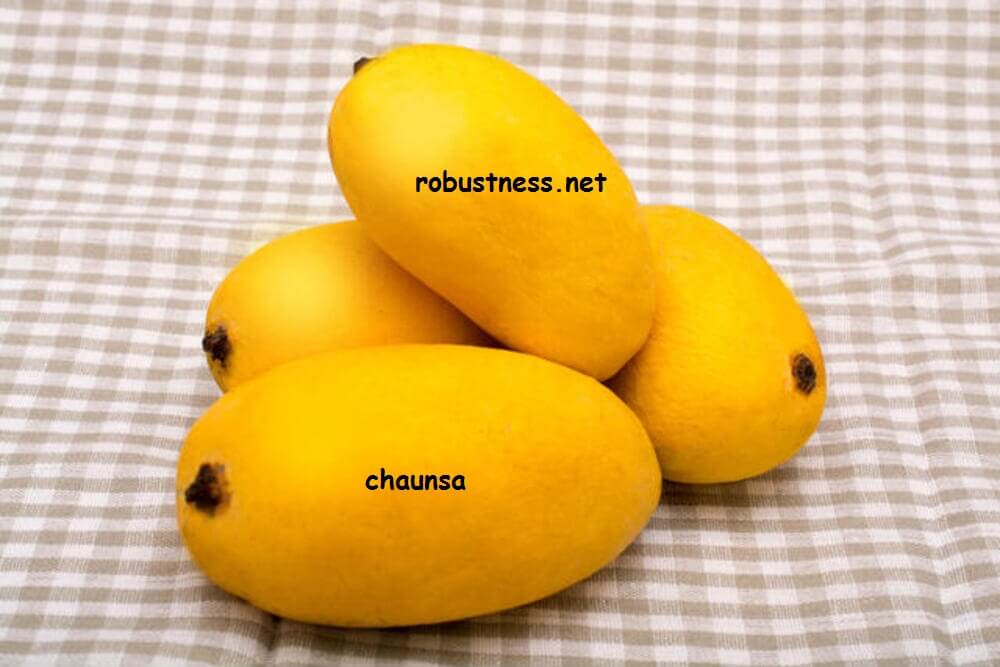 Do you remember Indian history, when was the Battle of Chausa and when was this battle fought? Afghan Emperor Sher Shah Suri made chaunsa mango very famous throughout the country. He had termed it, "Chaunsa" after defeating Humayun (A Mughal Emperor) at Chaunsa (Buxar-1539 ).
Chaunsa is a very famous variety of mango And is mostly found in the northern parts of India.
Chaunsa mango has sweet-smelling and great taste. When it comes to the sweetness of mango, no other type of mango can best Chaunsa mango. It is full of nutrition, The pulp is very juicy. Which makes it the most popular mango in the world. People usually like to eat it by sucking it, not by chopping.
Chaunsa mango is very succulent and equally sweet. This mango is as famous in Pakistan as it is in India.
Shape and Color of Chaunsa Mango:- Ripe chaunsa mango is golden-yellow color and soft. Its shape is longer than wide with a tint of red blush. (Not a rectangle one – like oblong shape)Season of Chaunsa mango:- It is a late variety of mango, usually available in the market in July and lasts till August.
#4: Dasheri Mango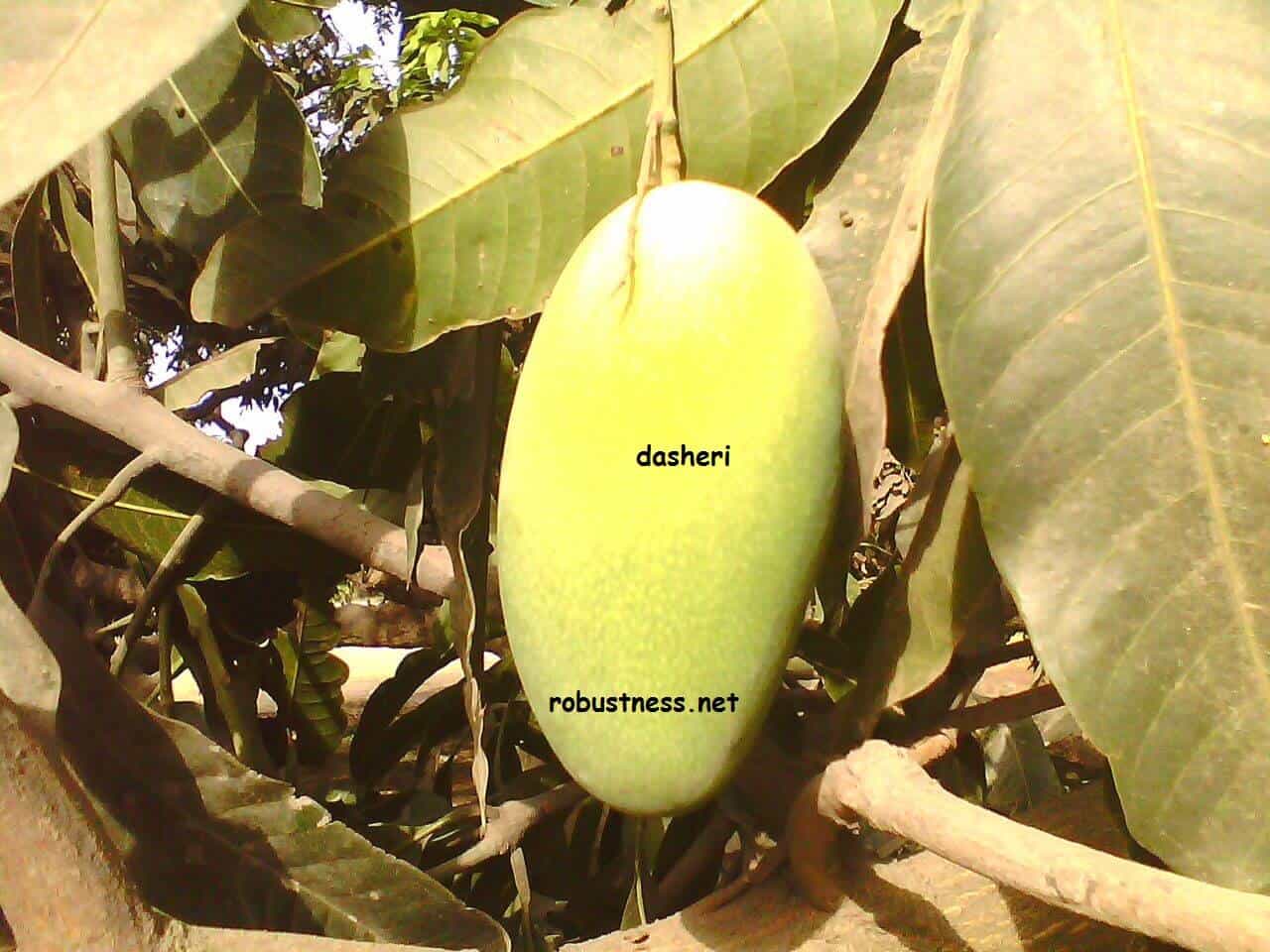 Dasheri mango is another very popular variety of mango grown in India. Its origin is Dasheri, near Kakori, UP(India). Actually, it was first cultivated* at the orchard of Nawab Mohammad Ansar Zaidi around 200 years ago.
Dasheri mango is often referred to as Malihabadi mango. Some people call it dussehri too.
Dasheri mango has a very delicious taste as well as the aroma. The price of Dasheri mangoes is neither expensive nor cheap. It is easily available across India. It is not wider in size but is longer (long and oval).
After the ripening of Dussehri mango, its peels turn into a combination of yellow and green. Sometimes its skin turns bright yellow.
A surprising fact about Dussehri mango is that it is the mother of many varieties of mangoes in India.
Dasheri mango is available in the market before the arrival of Chaunsa mango. To be honest, mango lovers eagerly await the arrival of Dasheri mangoes in the month of June every year.
#5: Langra Mango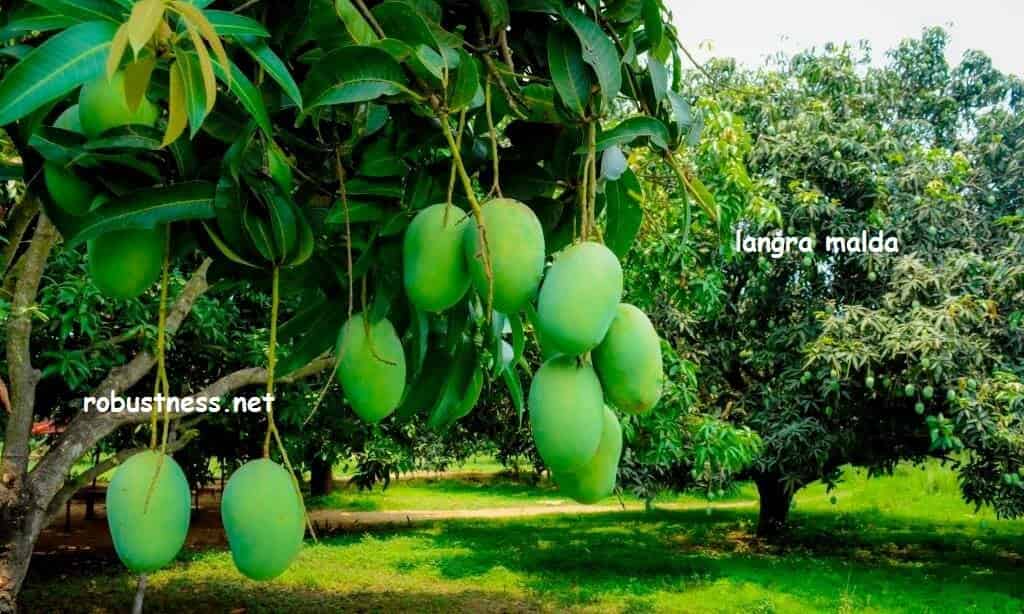 Isn't it weird to hear the name "Langra Mango" or "Lame mango"?
Sometimes people get confused after knowing its name, is it a handicap variety of mango? See, Langra is only a name for it, but this variety of mango is unmatched as far as its taste, aroma, and flesh are concerned.
There is a historical angle behind its name like Chaunsa aam. The first langra mango tree was planted by a lame farmer in Banaras in the 17th century. People used to call him "langra" (like a nickname). When his planted tree gave mango fruit, that new variety of mango became very popular due to its taste and aroma, etc, and people started calling this mango langra aam or langra mango.
Over time, this mango gained fame all over India but in the name of its first name langra mango.
#6: Baiganpalli Mango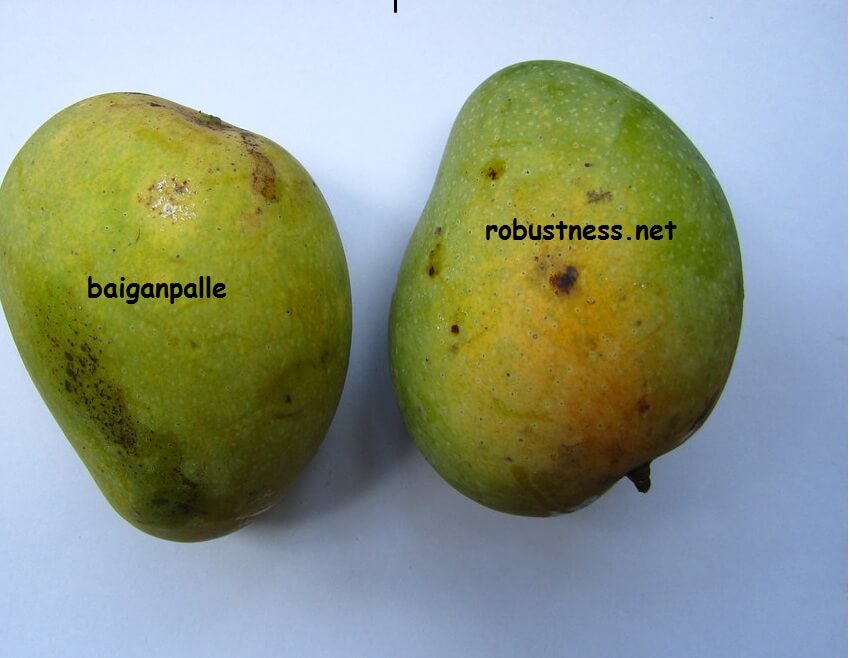 The list of top mango varieties in India is incomplete without adding the South Indian most popular mango variety Baiganpalli. Baiganapalle is also known, Banginapalli, Safeda, and Benishan.
Don't be confused if your father likes Baiganpalli and mother likes safeda. Banganapalle is a town in Kurnool district in Andhra Pradesh, this variety of mango has been cultivated there for a long time. Hence mango is also named Banganapalle. Bengpal Mango successfully received the GI tag in 2007. (Geographical identification is given only to products that are found only in a specific area.)
Usually, Baiganapalle weighs between 350-400 grams. Mango is meant to be eaten without its skin, but Safeda can be eaten with its peel, its skin thin like a napkin. It has a unique aroma, delicious taste.
#7: Fazli Mango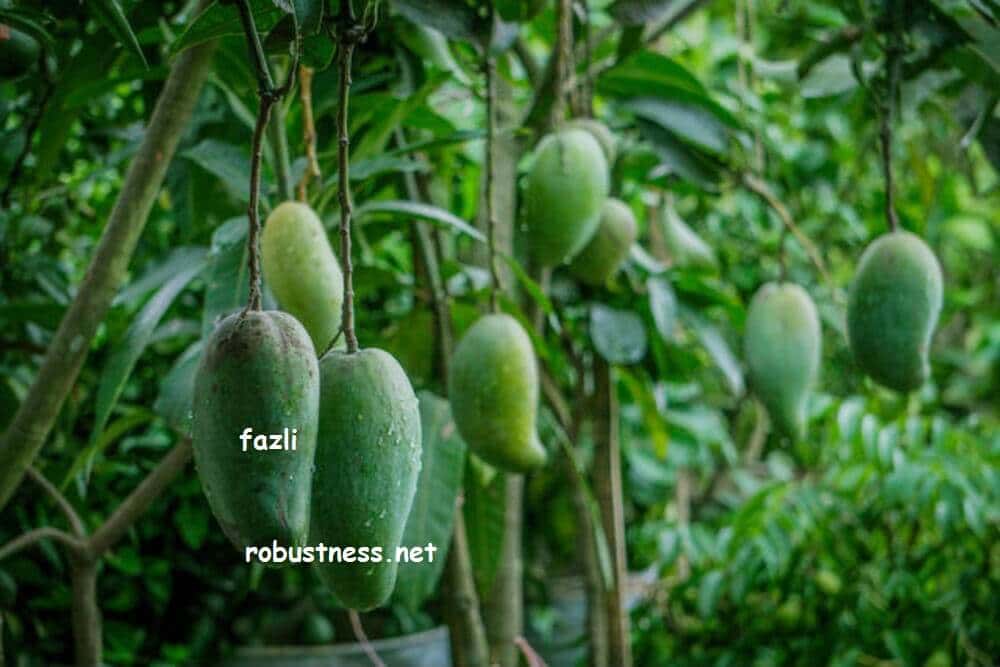 In general, 1 mango is consumed by 1 person but 1 fazli mango can be consumed by all the members of the family as it weighs about 1 kg.
Fazli mango is the best mango in Malda category. Its pulp is juicy and sweet. Bihar and West Bengal are the main areas of production of Fazli mangoes. When most of the mangoes types in the market run out, it comes to sell.
Like other types of mango, its pulp does not contain fiber but has a good smell.Fazli mango is available from the 1st-2nd week of July. ( maturity date between 1st July to 15 July).
#8: Mulgoba Mango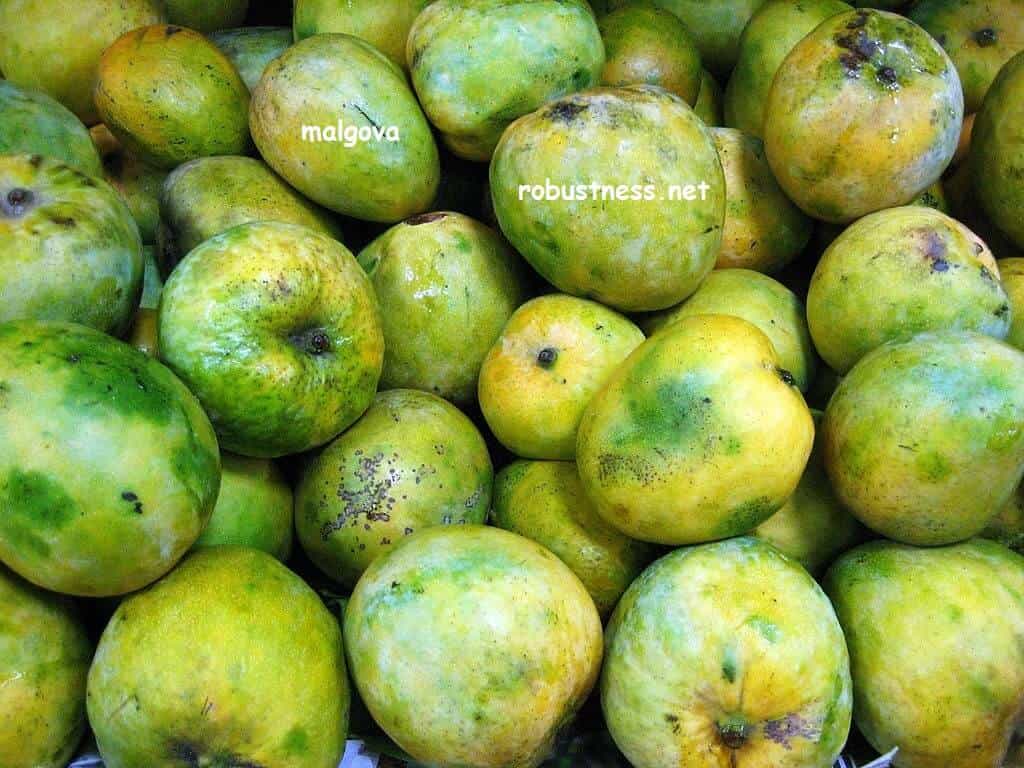 Malgova is mainly grown in South India, especially in Tamilnadu. It is a very important mango cultivar, full of nutrition, great in taste.
Malgoba is also known as Malgova. Malgova is considered to be one of the finest types of mango cultivar.
Those of you familiar with Malgova mangoes who live or travel in South India. It has good demand in the session. In fact, it is one of the few South Indian mangoes that is liked by all.Malgova mango shape is oblique round, color is yellow and skin is hard, but the size is large.
#9: Bombay Green Mango (Bombay Malda)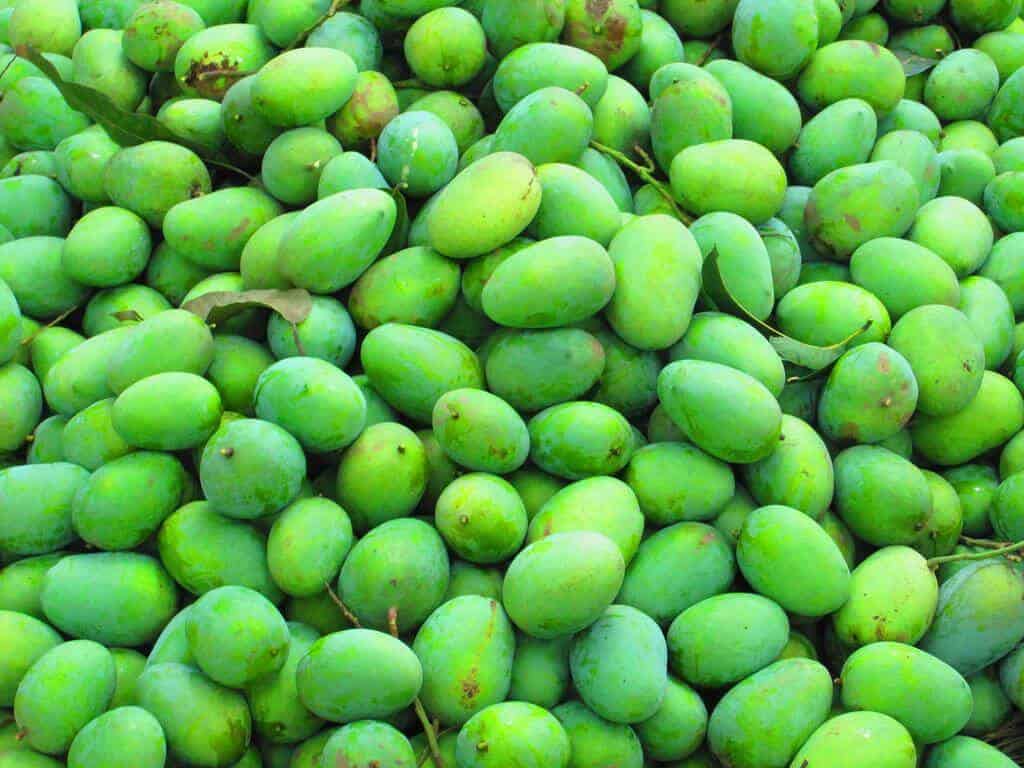 Bombay Green is also popular in the northern part of India as Bombay Malda. North India is its main place of production. In the northern part, it is available in the market at the beginning of the mango season from May.
Bombay mango has a medium size with spinach green and is oval rectangular in shape. As it tastes good and its initial availability remains in demand in the market.
#10: Gir Kesar or Kesar Mango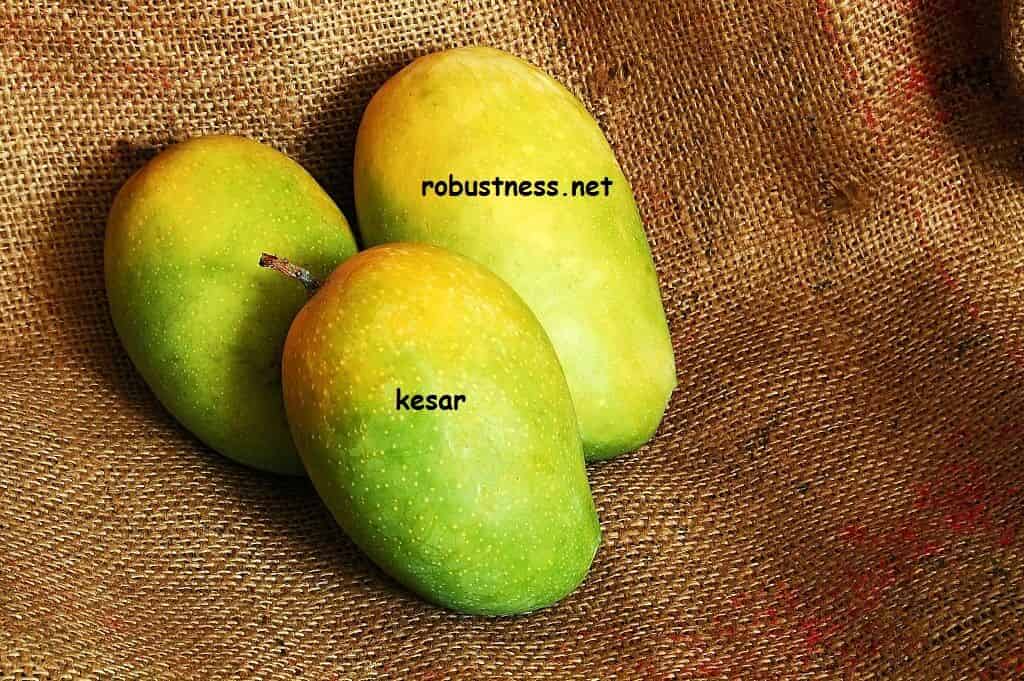 Gir Kesar mango is also an expensive variety of mango in India. It is grown mainly in Gujarat ( Saurashtra region). Gir Kesar mango was first grown in 1931.
Gir Kesar is the second mango variety registered with GI(geographical indication). Kesar mango is medium in size but has great sweetness and flavor.
Like most types of mangoes, its pulp has less fiber. Gir Kesar is so good that it is imported to outside countries. You are more or less familiar with the top ten types of mangoes.
You might have tasted all varieties of mangoes in your life but you may not have been an expert to identify them with references to history etc.
I take you through another section of mango types categorization. The second list includes 20 different types of mangoes, many of which may be your favorite.
List of another 21 types of mango you should be familiar with
Amrapali
Neelam
Raspuri
Totapuri
Dudhiya Malda
Himayat / Imam Pasand
Himsagar
Laxman Bhog
Mallika
Manohar
Guiab Khas
Zardalu
Kishenbhog
Sukul
Jardalu
Pairi
Mankurad
Vanraj
Mithua
Calcutta maldah
Neelgoa.
Mango is grown in almost every part of India, but some states are the highest producers of mangoes. Uttar Pradesh ranks first. States which are known to produce commercial varieties of mangoes are the following.
List of 5 Hybrid mangoes in India
Amrapali (From a cross of Dasheri and Neelum)
Mallika (Dasheri and Neelum)
Ratna (Neelum and Alphonso)
Sindhu (Ratna and Alphonso)
Arka Aruna (Baiganpalle and Alphonso)
 Health Benefits of Mango
Pectin is a soluble dietary fiber, and interestingly mango is a great source of pectin that helps to lower cholesterol levels in your body.
A recent study tells, pectin could prevent the development of cancer. Polyphenols in mango have a chemotherapeutic potential against breast cancer as per the study of Texas A&M University.
Vitamin A is very important for overall eye health and vision. Beta carotene is also called Provitamin A. Mango is a good source of Beta carotene.
Mango also helps regulate digestion. As it contains some very important substances like esters, terpenes, and aldehydes. Mango increases appetite and keeps your digestive system healthy.
Mango helps cure acne. Mango contains skin-friendly Vitamin A and C. You can include it in your diet or simply apply (pulp) on your affected area for 10 minutes, then wash off.
Mango contains potassium, magnesium, selenium, calcium, iron, and phosphorous. These important mineral helps maintain blood pressure and keeps your body healthy.
Mango boost immunity power as mango contains a good amount of Vitamin C.
People with diabetes need not worry about eating yummy mango. Yes, an article published on the US national library of medicine national institute of health clearly suggests supplementing with mango for 12 weeks can reduce blood sugar levels in obese adults. It further says fiber in mango good in promoting normal blood sugar.
Vitamin B6 is a very important micro-nutrient needed for proper brain function. Mango is loaded with vitamin b6 too.
---
Mango Nutrition Fact ( Indian mangoes nutrition facts)
Mango Nutrition Fact (Raw mango-100 gm)
Name
Amount
Unit
Water
83.46
gm
Protein
0.8
gm
Fiber
1.6
gm
Sugar
13.66
gm
Copper
0.111
mg
Potassium
168
mg
Calcium
11
mg
Vitamin A
1081
IU
Vitamin C
36.4
mg
Vitamin K
4.2
µg
Vitamin E
0.9
mg
Niacin
0.669
mg
Vitamin B6
0.119
mg
---
Mango varieties in India State wise production
| | |
| --- | --- |
| State | Mango Varieties |
| Andhra Pradesh | Allumpur Baneshan, Banganapalli, Bangalora, Cherukurasam, Himayuddin, Suvernarekha, Neelum, Totapuri |
| Bihar | Bathua, Bombai, Himsagar, Kishen Bhog, Sukul, Gulab Khas, Zardalu, Langra, Chausa, Dashehari, Fazli |
| Goa | Fernandin, Mankurad |
| Gujarat | Alphonso, Kesar, Rajapuri, Vanraj, Jamadar, Totapuri, Neelum, Dashehari, Langra |
| Haryana | Dashehari, Langra, Sarauli, Chausa, Fazli |
| Himachal Pradesh | Chausa, Dashehari, Langra |
| Jharkhand | Jardalu, Amrapalli, Mallika, Bombai, Langra, Himsagar, Chausa, Gulabkhas |
| Karnataka | Alphonso, Bangalora, Mulgoa, Neelum, Pairi, Baganapalli, Totapuri |
| Kerala | Mundappa, Olour, Pairi |
| Madhya Pradesh | Alphonso, Bombay Green, Langra, Sunderja, Dashehari, Fazli, Neelum, Amrapalli, Mallika |
| Maharashtra | Alphonso, Mankurad, Mulgoa, Pairi, Rajapuri, Kesar, Gulabi, Vanraj |
| Orissa | Baneshan, Langra, Neelum, Suvarnarekha, Amrapalli, Mallika |
| Punjab | Dashehari, Langra, Chausa, Malda |
| Rajasthan | Bombay Green, Chausa, Dashehari, Langra |
| Tamil Nadu | Banganapalli, Bangalora, Neelum, Rumani, Mulgoa, Alphonso, Totapuri |
| Uttar Pradesh | Bombay Green, Dashehari, Langra, Safeda Lucknow, Chausa, Fazli |
| West Bengal | Bombai, Himsagar, Kishen Bhog, Langra, Fazli, Gulabkhas, Amrapalli, Mallika |