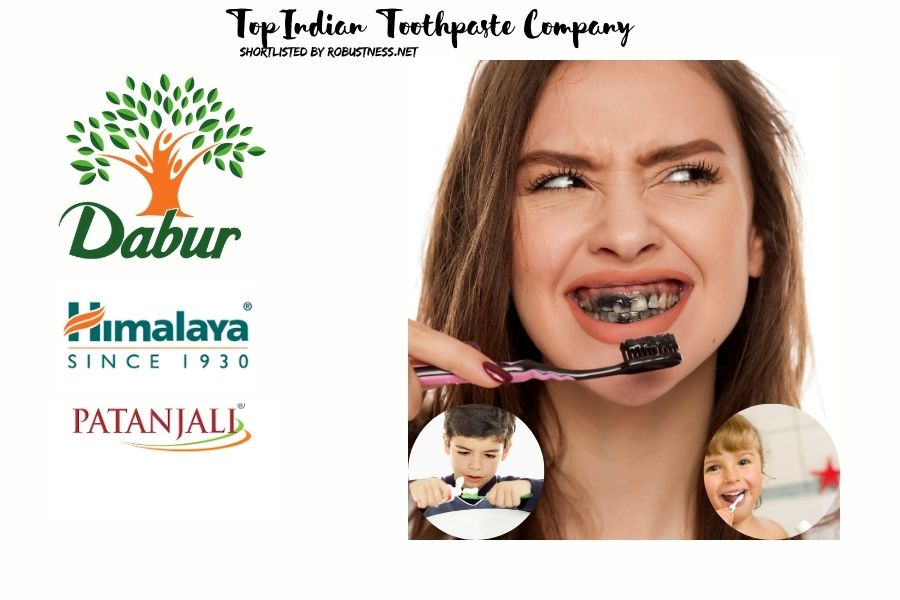 I am going to talk about the top Indian toothpaste company that produces high-grade toothpaste, which is good in terms of performance and health safety, even though Indians do not use "Make in India toothpaste" much, but foreigners use it in abundance.
Almost every Indian probably uses toothpaste twice a day, first in the morning and the second time before sleeping. Brushing your teeth with toothpaste is a routine for every Indian. We enjoy brushing teeth with any toothpaste we get without considering the toothpaste ingredients and origin of toothpaste's company. Yes, toothpaste is used to clean teeth, maintain gum health, kills bacteria, fights against teeth diseases and eliminates bad breath; especially after eating, but not all toothpaste do their work honestly.
The best toothpaste is the one that takes care of the overall health and cleanliness of teeth and gums. The Indian market is replete with international toothpaste that claims to whiten teeth after a single use but contains hazardous chemicals that are dangerous to the health of your teeth after prolonged use.
It is unfortunate that the majority of "Make in India Toothpaste" is organic, prepared from natural ingredients and herbs, but in spite of it is ignored by most Indians. The international toothpaste company promotes its products through various platforms. They employ big celebrities to popularize their toothpaste among Indians. As a result, the Indian toothpaste company is unable to compete with the international toothpaste company.
Let me be transparent to you that not every Indian toothpaste company produces high-grade products, so don't get trapped looking at indigenous company labels. You need to check some other important facts as well.
With the Make in India initiative by PM Modi in 2014, the domestic company accelerated manufacturing of products including Swadeshi Toothpaste.
Some domestic companies are doing quite well as their products meet every criterion to take the top position globally.
I have made a list of the top Indian toothpaste company whose Toothpaste products work wonders on the health of our teeth, they whiten our teeth quickly, are free from parabens and dangerous chemicals and above all it is much cheaper in price .
Top 3 Indian Toothpaste Company shining globally
1
Patanjali Ayurved Limited
Patanjali Ayurved Limited is owned by Baba Ram Dev which is one of the trusted domestic companies for producing finest class of toothpaste. Patanjali's toothpaste comes in different names with various characteristics. Patanjali Ayurveda Limited uses organic, herb and natural plant ingredients to prepare its toothpaste.
DANT KANTI Toothpaste is a gem product from the house of Patanjali
DANT KANTI is Patanjali's top toothpaste product that takes care of overall teeth, gums and mouth health. Dental Kanti contains important natural elements like neem, timberu, turmeric, cloves and peppermint, pipli etc.
Dank Kanti Toothpaste is used not only for cleaning teeth, but to protect your teeth from Pyria and Gingivitis. Dant Kanti Toothpaste is a boon for a person with bad mouth odor. Therefore, when it comes to the best Indian toothpaste company, there is no doubt, Patanjali ranks first.
Patanjali Popular Toothpaste Products list at Glance

Name
Size
Key Ingredients
Recommend
Price
Dant Kanti

20/200 gm
Neem, Babul, Pipli, Miswak, Cloves
Pyria, gingtivis, bad odour
20gm@10 INR
Dant Kanti Junior
100 gm
Pudinha, Mulethi, Saunf
Kids
35 INR
Dant Kanti Medicated
100 gm
Vidang,Vajradanti,Tomar
Bleeding gums, toothache, Sensitivity
45 INR
Dant Kanti Advanced
50 gm
Vajradanti,Kapur,Ajawayeen
Overall Teeth Health
50 INR
Dant Kanti Fresh Active Gel
20/80gm
Anar, black pepper, badi elaichi, dal chini
Periodontal disease, bad breath
20gm@10 INR
Dant Kanti Alovera Gel
20gm
Alovera
Gum disease
10 INR
The 90-year-old company, Himalaya is global leader in health and personal care. Liv-52 created a unique identity of the Himalayas globally in the health sector.
Today, the Himalayas produce over 500 products and import to 100 countries. Himalaya toothpaste is one of the icon products of the Himalayan Company which is in demand all over the world including India. Toothpaste of Himalaya is natural which does not contain any kind of chemicals.
Complete Care Toothpaste is Himalaya company's best selling toothpaste
Himalaya produces a wide range of toothpastes that cater to the needs of every person. Complete care toothpaste, top selling products in toothpaste category, is formulated with natural blends of plants and herbs to keep teeth clean, hygienic and healthy.
The company claims to use high antioxidant herbal formula in it to fight free radicals. Complete care toothpaste helps maintain gum health as well.
Himalaya Toothpaste Products at Glance

Name
Size
Key Ingredients
Recommend
Price
Complete Care Toothpaste
80/150 gm
Neem, Triphala, Miswak
Gums problem and toothache
80gm@50 INR
Sparkling White Toothpaste
80/150 gm
Papaya, Pineapple, Miswak
Person with yellow teeth
80 gm@60 INR
Active Fresh Gel
80 gm
Menthol, Fennell
Bad breath
50 INR
Stain Removal toothpaste
80 gm
Papaya, Pineapple
To remove stain from teeth
70 INR
Sparking White Fresh Gel
40/80gm
Papaya, Pineapple, Menthol,Mint
Yellow teeth and bad breath
30 INR
Sensitive Toothpaste
80gm
Spinach
Sensitivity of Teeth
105 INR
Dabur was known to Dabur Hajmola until 2000, Dabur Hajmola works wonders on an upset stomach, over time, the company, Dabur India Limited, expanded its wings into many health care products. The toothpaste which has been recently incorporated by Dabur became the preferred toothpaste in India.
Bad breath is one of the most common problems that Indians live with. It becomes even more disgusting when you know someone who refrains from talking with you because your mouth smells. Teeth strains stop you smiling publicly? Use Dabur red toothpaste twice a day to overcome all general health disease. It even treats plaque and gingivitis.
The Dabur company does not add any chemicals in its toothpaste. They combine a balanced proportion of ayurvedic ingredients such as Clove, Pudhina, Sunthi and Tomar beej etc to prepare it.
Dabur Toothpaste Products


Name
Size
Key Ingredients
Recommend
Price
Dabur Red Paste

200 gm
Ginger, Tomar, Pudina
Plaque, Gingivitis, bad breath
95 INR
Dabur Meswak Toothpaste
100 gm
Papaya, Pineapple, Miswak Extract
Tooth decay, Tarter
52 INR
Dabur Dant Rakshak

175 gm
Mulathi, Lavang, Tejbal (combination of 32 ayurvedic herbs)
Complete tooth and gum health
85 INR
Dabur Babool

175 gm
Babool extract
Normal Teeth
55 INR
Summary:- Organic toothpaste is better than traditional toothpaste that contains harmful chemicals. India has been a rich place for cultivating herbs and ayurvedic plants. The Indian toothpaste company mentioned above uses those essential herbs and plants in place of toxic ingredients.