7 best Trimmer for men in India : Buyer guide 2020
You really need the best trimmer for men in India but you do not have that much time to do product research. I can assure you that you are in the right place. By looking at any trimmer you will know whether it is good or bad at the end, keep reading.
Today's youth prefer to trim the beard rather than clean shaving. In recent days, the craze of keeping a trimmed beard has increased. The main benefit of trimming your hair is that you groom your facial hair and do not damage your facial skin.
The beard and mustache grow daily, so you need to groom it every day or every alternate day. But, The question is whether you would like to go to Saloon to trim your beard and mustache daily?
Obviously Not, a beard trimmer is the must-have grooming product for you.
You only need to invest once if you get a beard trimmer. Knowing which trimmer is best is a slightly complicated process. Because all the companies that make trimmers call themselves superior. To make this complex process easier, I have listed out the best beard trimmer for men India.
I have finalized the list of best trimmers for men in India based on its quality, specification, popularity, durability, and price.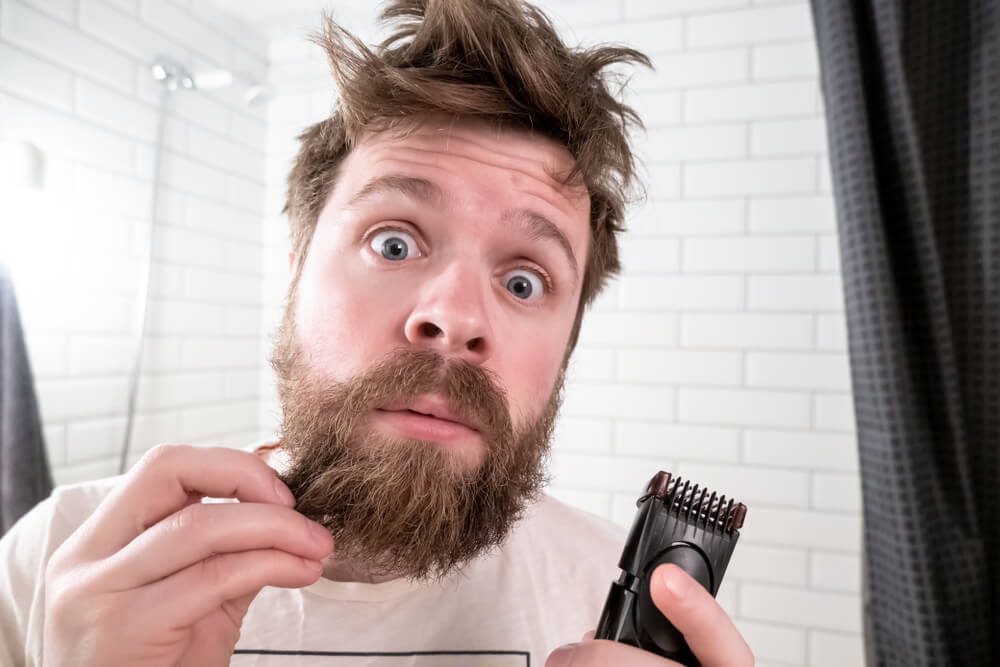 7 best trimmer for men in India

Page Contents
| | |
| --- | --- |
| Trimming length Minimum | O mm |
| Battery Back-up | 90-120 minutes |
| Battery Recharge Time | 60 minutes |
| Battery Type | Li-ion Battery |
| Cordless | Yes |
| Others Features | LED Panel for Battery and Oil indicator, T blade design |
| Price | 1999 |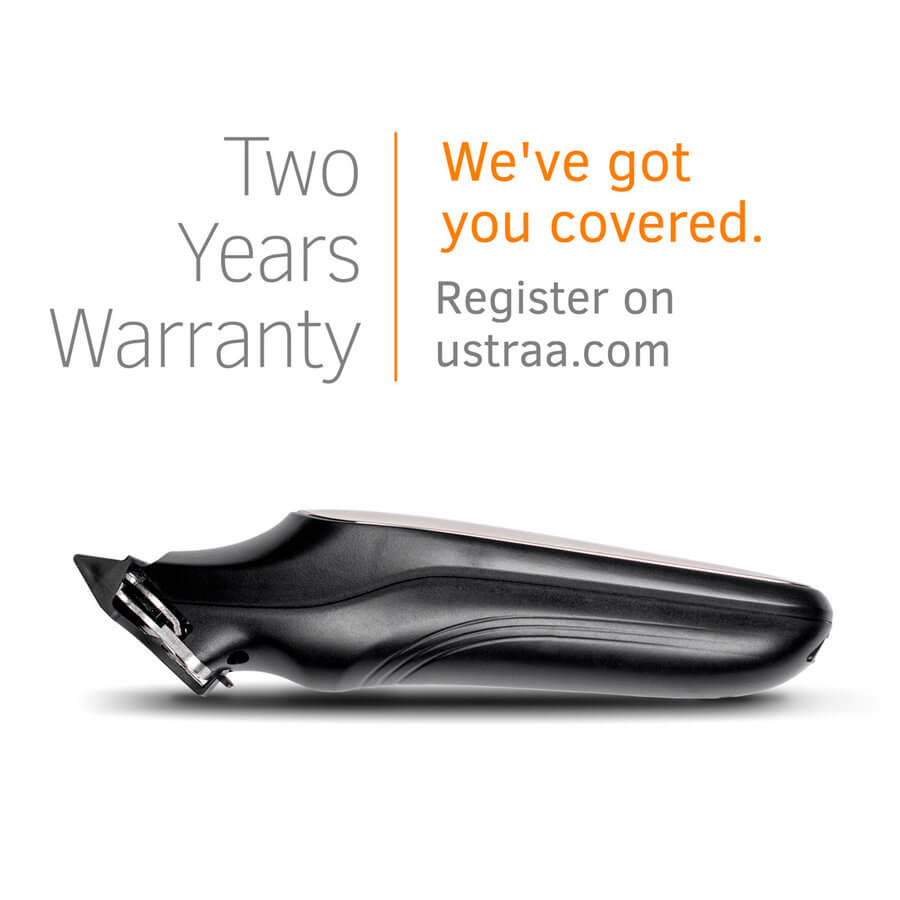 Ustraa Chrome beard trimmer is manufactured by Ustraa company, Ustraa is known for manufacturing men grooming products. This model of trimmer has all the features that make it number one here among all the top models.
You can use it 2hr just doing 1hr of charge. The LED display tells you how much battery is left. The titanium blade ensures smooth trim. T shape blade saves your timing as it covers more surface. Low noise motor doesn't let other people know actually you are trimming. Above all you can set your beard trimmer setting as low as you can, it can go up to 0 mm.

I found Ustraa Trimmer is one of the best trimmers for men in India. Cost is very friendly, in fact, the branded trimmer will cost you a minimum of 3000 INR for the same features. 
| | |
| --- | --- |
| Trimming length | 0.5 |
| Battery Back-up | 90 minutes |
| Battery Recharge Time | 60 minutes |
| Battery Type | Ni-MH Battery |
| Cordless | Yes |
| Others Features | Titanium blade, stubble comb, travel pouch, cleaning brush |
| Price | 2395 |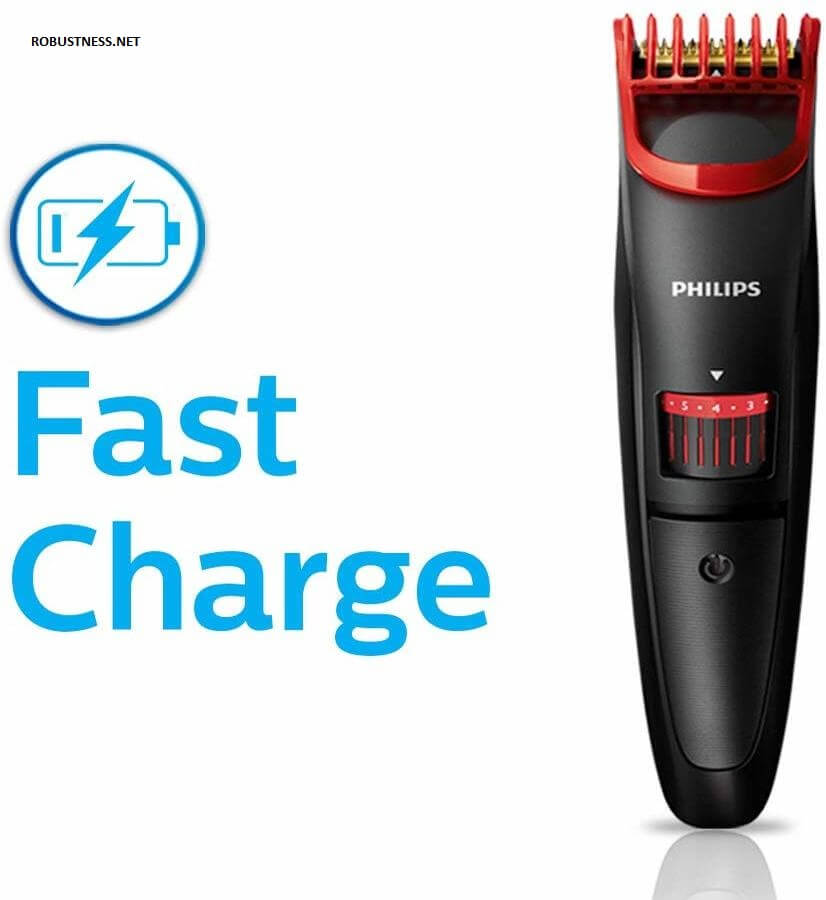 Philips is a renowned electronic brand. You may choose its product blindly as its products are long-lasting and worth the money. Philips has brought a lot of ranges of trimmers in India, considering Indian people.  Pro Skin Advanced Trimmer is the most popular beard trimmer of Philips.
Use it 1.5 hr continuously after a quick charge of only 1 hr. Through the wheel on upper part of the trimmer, you may easily set 0.5 mm to 10 mm. The titanium blade helps to keep its sharpen autonomously. Blade tips are rounded that protect your skin being irritated. Do you prefer to wash it after use? Simply detach the blade.  Do you travel always? Pro Skin Advanced beard trimmer comes in travel pouch.
In my review and research Pro Skin Advanced is the best trimmer in Philips.
Also, read
| | |
| --- | --- |
| Trimming length | 0.6 mm |
| Battery Back-up | 120 minutes |
| Battery Recharge Time | 120 minutes |
| Battery Type | Li-on Battery |
| Cordless | Yes |
| Others Features | USB charging, detachable SS blade |
| Price | 749-1499 |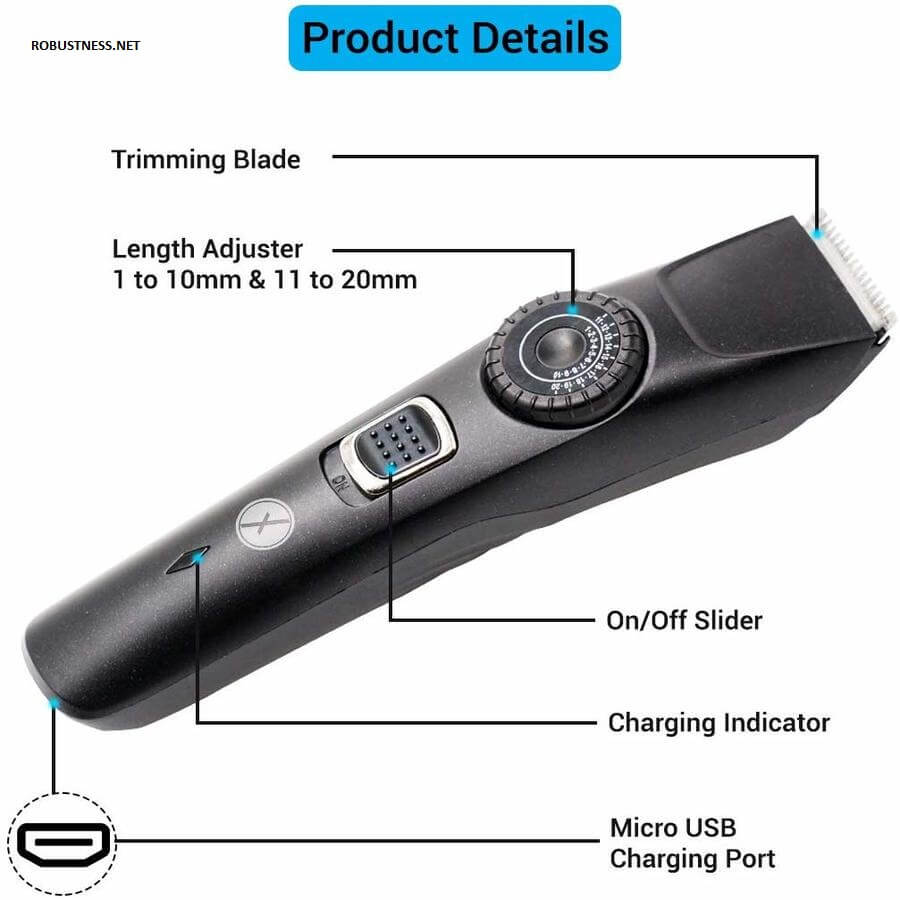 If you are looking for an Indian brand. Go with Xmate Quik Cordless Trimmer.  You get all the features for the same price what big brand charging you double or triple.
2 hr run time and the same is the charge time. Do charge with Micro USB charging. The company provides you 20 length setting from 1mm to 20mm with a comb. Without comb, you can trim close to 0.6 mm. Upper section I mean blade can be easily disassembled to clean.
| | |
| --- | --- |
| Trimming length | 0.5mm |
| Battery Back-up | 90 minutes |
| Battery Recharge Time | 2hr |
| Battery Type | |
| Cordless | Yes |
| Others Features | 40 length setting, stainless steel blade, travel lock, two comb( 0.5-10m, 10.5-20m), LED Battery indicator |
| Price | 1199-1499 |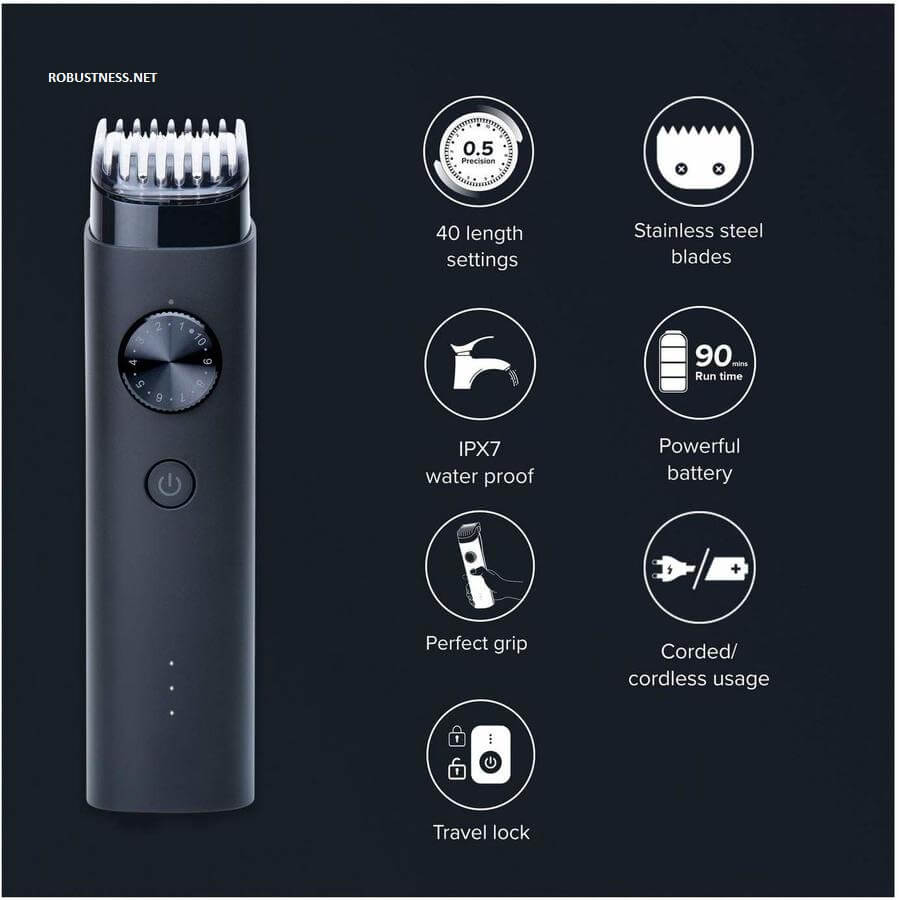 Have you ever experienced Xiaomi or MI products? If yes then I didn't make mistake listing MI trimmer in the best section. If no, try it once just for an experiment. You will not feel cheated. 
Mi Trimmer gets fully charged in only 2 hrs and can be used 1.5 hrs without interruption. Versatile usages, use corded or cordless. It comes in 40 length setting with 0.5 mm precision. LED battery indicator is attached with the trimmer to protect it from overheating and to tell when plugin.
| | |
| --- | --- |
| Trimming length | 0.5 mm |
| Battery Back-up | 60 minutes |
| Battery Recharge Time | 120 minutes |
| Battery Type | Li-on Battery |
| Others Features | Removable SS blade |
| Price | 699-1500 |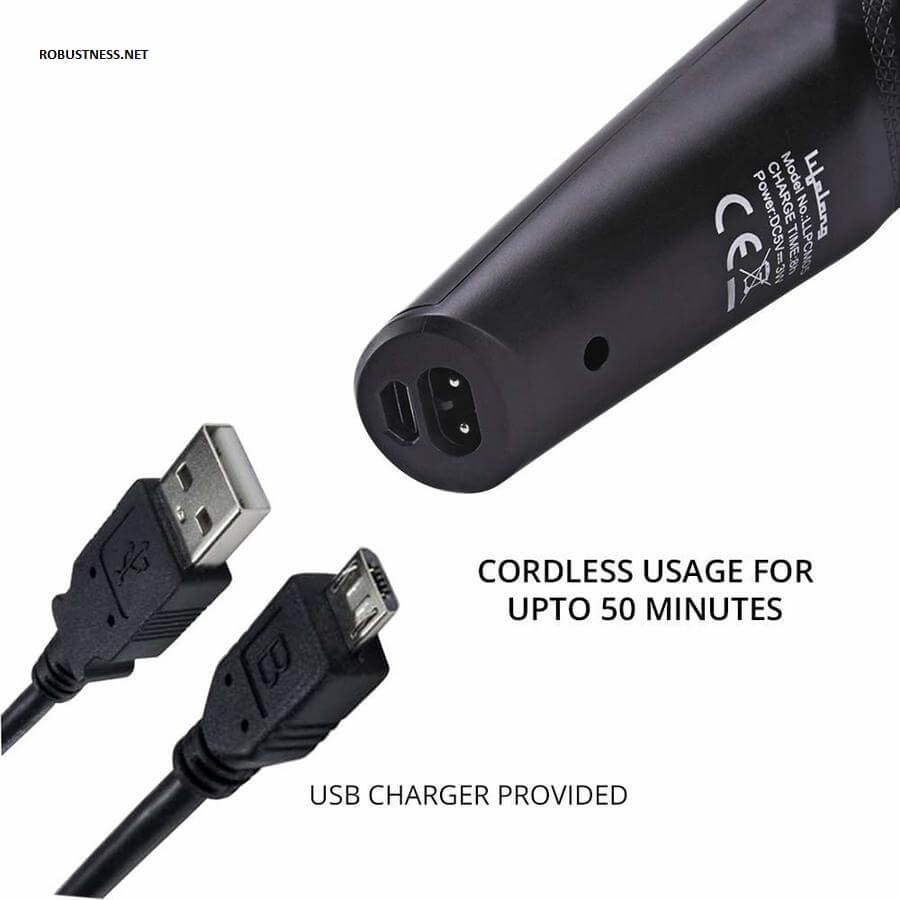 Lifelong LLPCM07 Cordless Beard Trimmer is also an Indian brand. Lifelong is a Gurgaon based Indian company that introduced various models of beard trimmer in India. But LLPCM07 became very popular so I listed here in the best 7 categories.
LLPCM07 trimmer has also a quick charge facility. Use it 1 hr without any hurdle and put it on charge for only 2 hrs. Enjoy silent motor with corded or cordless features.
| | |
| --- | --- |
| Trimming length | 0 mm |
| Battery Back-up | 30 minutes |
| Battery Recharge Time | 8 hrs |
| Battery Type | Ni-MH |
| Cordless | Yes |
| Others Features | S S blade, USB charging, |
| Price | 945 |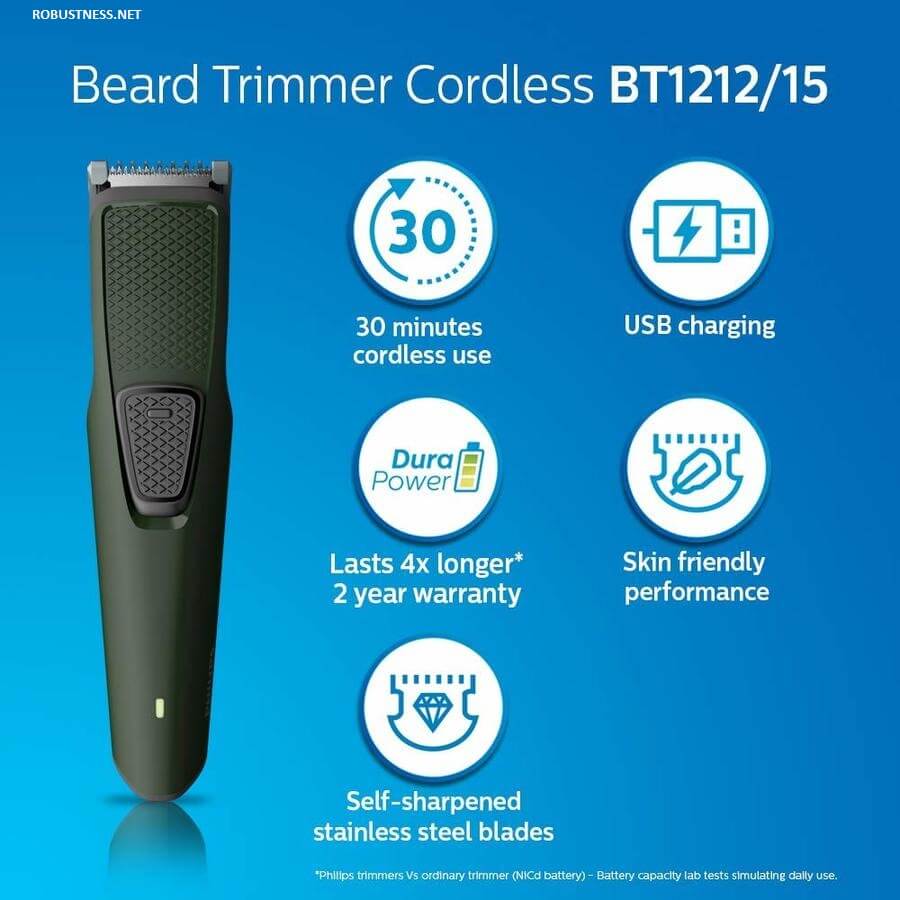 Philips beard trimmer BT1212/15 is for someone who is brand savvy but can not afford it.  Usually, branded products are costly but this model of Philips is available at a very lower price.
| | |
| --- | --- |
| Trimming length | 1mm |
| Battery Back-up | 45 minutes |
| Battery Recharge Time | 10 hrs |
| Battery Type | Ni-MH Battery |
| Cordless | Yes |
| Others Features | Stainless steel blade, stubble comb, cleaning brush |
| Price | 1475 |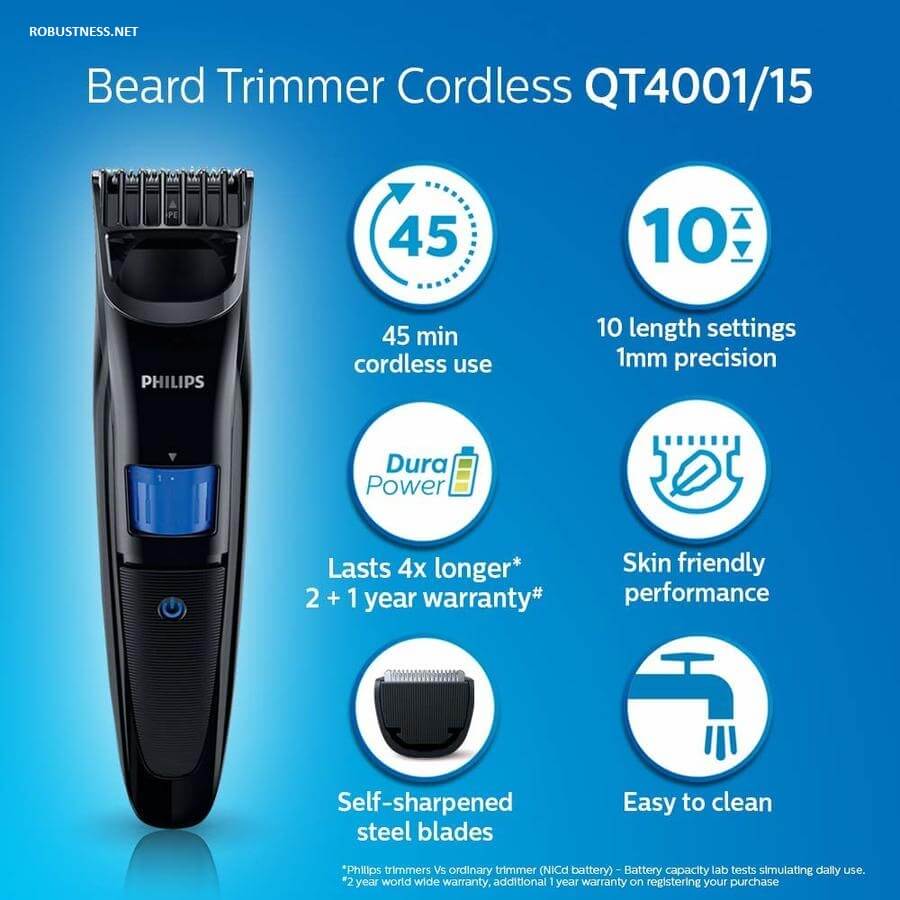 Philips beard trimmer QT4001 is cordless with a run time of 45 minutes. If you are a loyal customer to Philips, but the hand is tight this model of Philips trimmer is another good option for you without a second thought. You can easily set the length between 1-10 mm with 1mm of precision that is the default. The upper part is removable helps you maintain hygiene. All Philips trimmers in India come with a minimum of 1 year of warranty. The company offers you 2 years of warranty worldwide with this model.

Buyer guide to consider before getting a beard trimmer.
Charging time
What does the maximum time it takes to get fully charged?
The trimmer takes minimum time to get fully charged is best. Always take special care at the charging time of trimmer when deciding to finalize it. Nowadays there are fast charging trimmers available in the market, which fully charge the battery in 1 hour. Most of the cases, people remember to charge the trimmer battery when needed to use it.
See as I said above trimmers come with cordless and corded. If you choose a corded trimmer, you really don't need to worry about the battery charging. Just plug-in and trim any time.
It is best for you to choose the trimmer that has both corded and cordless features.
Run Time
It is another important feature of any trimmer to be best. You should not compromise with the run time of trimmer. How long does the trimmer run smoothly without harming your skin of the face after fully charged is the run time. Generally, It takes 30 minutes to trim your beard and mustache properly. Trimmer with 45-60 minutes run time is the best option for you. Those need not worry about the run time of trimmer who like a corded trimmer.
Corded/ Cordless.
The corded trimmer has few limitations like you need the power to use it all the time. Generally, a corded trimmer is heavy in weight and big in size. The motor is also very noise, your neighbor can easily guess what you doing. Because of the cord, it is really not much comfortable than of cordless trimmer. In fact, the cord bothers you lots while using it.
You might have heard that everything has its specialness. Same as with a corded trimmer, despite way behind than of cordless trimmer, corded trimmer user don't have to wait a long time to use it, you can use it any time.
A corded trimmer is slim, easy to grip. You may trim while bathing I mean waterproof and electric proof. In case trimmer battery exhausted you need to get it charged. Depend on the quality of the cordless trimmer, you have to wait for using it again. That is sometimes very annoying.
My experience tells, don't limit yourself . Get trimmer with both facilities altogether.
Blade
Usually, trimmer consists of two blades or more. One blade is constant, while the second one is a sliding blade.  It is the blade that trims you face hair. Titanium coated blade made of stainless steel is the finest best. Because it is durable and sharpen one. Nowadays, some companies using self sharping technology in the blade, That simply extends the life of the blade. Every time you use this blade, this blade will be automatically self sharpen. The popular one is the SS blade. Normally it is good for all types of trimming.
Coming to the shape of the blade of a trimmer, T-shape is best, as it is wider, you can trim hair more at one. Pay attention to the tips of a blade that is best if rounded, as it protects your skin being harmed.
Lock-in length Setting
Just look at the following chart first, this will give you a glimpse of your facial hair length to leave for a certain period of time.
0.5 mm beard or mustache grow if you leave for 1-2 days

3mm beard or mustache if you leave for 3-6 days.

4mm                –                                                 8-12 days.

Short beard (5mm)  –                                      12-14 days.

Medium beard (10mm) –                                2-4 weeks.

Long beard ( 20+mm) –                                   2+ months.
Depend on the length of the beard and mustache you want to keep, you should consider the precision or length setting of trimmer. Suppose you want the 3 mm length of facial hair, I mean beard and mustache. You need to set the precision of 4mm.
An ideal trimmer is the one that can trim your 0.5 mm beard length. The default locking setting should be in various lengths so that you don't need an extra comb to trim your long facial hair.
Wet/Dry
To be best, the trimmer has many features. I am not talking here washing the detachable part that has a blade. A wet trimmer is one that allows you to trim your beard or mustache while bathing.
Dual Voltage
It is good the trimmer can be charged between 100-240 voltage.
Frequency Asked Question
What are the side effects of clean shaving?
Many people believe that clean shaving from a razor can cause grow back thicker and darker hair which is not true.
This is a fact clean shaving causes some effects on your face but the above saying was a bitter lie. Most common side effect includes cuts, burn, irritation, abrasion, and ingrown hair.
Ingrown hair is also known as Pseudofolliculitis barbae is a continuous irritation caused by shaving.
After the hair shaved, it is natural that hair will grow back. Instead of straight out of the follicle the hair enters into the skin that causes inflammation of the skin.
A person with curly hair tends to increase it more. The best way to overcome ingrown hair is to trim your hair than shaving your beard.
Can we wash trimmer with water?
Why do you need to wash the trimmer this is the basic question? Lots of hair got stuck at the tooth of the blade and nearby area while trimming your beard.
Even if you wash the portion that has a blade, you can maintain hygiene.
Most trimmers have a detachable section that has a blade. You can separate out it easily and rinse with the water.
Nowadays, some trimmer can be used while taking bath purely wet feature.
In case the detachable section is not available, you may check the instruction carefully before washing it with the water.
Can trimmer give clean shave?
No, the trimmer is designed in a way that does not shave your beard or mustache completely. Trimmer can give you closet cut but not the clean shave.
You can understand with an example. You bring a 0.2 mm trimmer but, You set up precision of 1mm length of your trimmer blade, then it will leave 1 mm stubble on your face. If you do trimming at the lowest default setting of 0.2 mm, it will leave 0.2mm stubble on your face.
Not in general case, It can cut your skin if you press forcefully or that part is sensitive.  But that cut would not be major. Beard is cut when it passes through the blades.
Conclusion: Go with Indian company made trimmer if you like to promote "Make in India" product, but if you brand-savvy you should choose Philips beard trimmer. MI trimmer is for someone who wants trimmer with all specifications at a lower price.